Very Superstitious
A country with a long pagan history and rich folklife, Lithuania has a wealth of age-old superstitions that are still in practice today. Upon any extended visit to Lithuania, particularly to the villages and countryside, many strange customs and beliefs may invariably present themselves. These endearing traditions, passed down over generations, reveal the playful, creative spirit of the people. Below, to help guard you against surprise, misfortune or embarrassment, we've compiled a list of interesting customs and superstitions you may encounter while in Lithuania. Interestingly, this list was compiled entirely from the cooperation of several young people - further evidence that these practices are very much alive. If you think there is anything additional we should include, please let us know...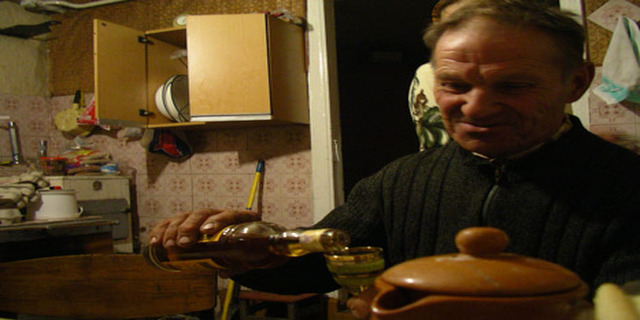 Above: Zygmus is a man of stiff drink and tradition. Oplia!

Lithuanian Customs and Superstitions:
It is common practice to bring a gift if you are visiting someone's home. An appropriate gift is a bottle of Krupnika, traditional Lithuanian honey liquor. Whether you've brought some or not, your host should produce a bottle of Krupnika upon your arrival and pour you a shot. Look your host in the eye and say either "Oplia" or "I sveikata" ('cheers'), then down that shot. Casually pour a shot for the person to your left, and they should likewise address you before taking the shot. The bottle goes around the table in this way until it is finished. (A drunk guest is a happy guest.)
Everybody knows that if you light a cigarette (or anything for that matter) from a candle, a sailor dies.
Never introduce yourself or shake hands through a threshold.
Don't place your bag on the floor - you'll lose money!
Don't whistle indoors - you'll inadvertently 'call little devils' to appear!
Don't sit at the corner of a table if you wish to marry soon. (You'll have to wait seven years. Oops!)
If a knife falls to the floor, it means you will soon have a male guest. If a fork falls, a female guest will visit. (Spoons are inconsequential - toss at will.)
If a bird shits on you, or if you accidentally step in shit (any old shit will do) - you'll be (filthy) rich!
If you are walking beside a friend and you split to bypass a post, street-sign etc., you will soon have a quarrel.
If swallows are flying low to the ground it will soon rain.
The 'smithereens' (ie broken pieces) of a mirror are good luck, but if you look into a broken mirror, you'll lose your beauty.
If you get a blemish on your nose, it means someone has fallen in love with you.
If your ears are hot and red it means someone is criticising you, but if your cheeks are hot and red, someone is complimenting you.
Black cats and breaking mirrors will earn you your run-of-the-mill bad luck, of course.
Walking on manholes is also bad luck, unless someone immediately knocks on your back once (obviously).
If you want to see your future, pour melted wax into a bowl of water - the shape it takes will forecast things to come.
Gestures:
One very popular way to avoid bad luck is to spit over your left shoulder three times (actually, projecting spittle isn't really necessary, it's more the gesture of pretending to spit...). Knocking on wood is also popular, of course. If you say something condemning like, "Man, I'm never going to get laid in this town!" the best recourse is to spit, knock, spit, knock, spit, knock. Crisis averted.
It's a common gesture to deny a request or respond in the negative by making an 'X' of one's forearms and tapping them together. This gesture commonly takes the place of shaking your head side-to-side and has a much more damning impact. You'll see.
A popular favorite is the old 'wooden head,' which we encourage you to work into your repertoire. You'll see this done more as a self-depreciating gesture than an insult, and there's no need to execute it slyly. It basically involves knocking on your head with one fist, while you knock on the underside of a table with the other.
Another strange custom occurs when two people say the same thing at the same time. Both parties must instantly make a wish, lock pinky fingers and count to three out loud. After 'three,' each person says either 'Adomas' or 'Iewa' (Adam or Eve); if you both say the same thing - your wishes come true. If not, well...no one really knows what happens, but you wouldn't wish it on yourself.
Christmas Eve Traditions:
Christmas is an especially magical time in Lithuania. On Christmas Eve water turns to wine and the animals speak openly when no one is listening (how convenient). Before the big traditional Christmas Eve dinner, the host may put pieces of straw of varying lengths under the tablecloth (though we really can't understand why you would do this to anyone). After dinner, each guest draws a straw. The length of the straw represents the length of your life - if you draw a short straw, you'll die soon (Merry Christmas!)
Also on Christmas Eve, if a girl wants to know the name of her future husband she must write down every name she can think of onto a slip of paper and put them into her pillowcase before falling asleep. In the morning, the name she draws will be the name of her future partner.
Marital Tradition:
When visitors cross into the district of Uzupis they will likely notice the padlocks all over the two bridges over the river Vilnia. This tradition was initiated by couples married at the Bernadine Church. Eternalising the commitment they have made to share their lives together, padlocks with the couple's name or initials and date are attached to the bridge. The keys are then ceremoniously tossed into the rushing waters of the Vilnia never to be recovered. [Oddly (and rather unromantically, we'd say), some couples choose not to observe this tradition, reserving the right to unlock their union...]
Located somewhere in Cathedral Square (superstition forbids us from revealing the exact coordinates) between the Cathedral and the Cathedral Belltower, visitors will find a tile with the colourfully mosaicked word "stebuklas" ("miracle") on it. This tile, the work of Lithuanian artist Gitenis Umrasas, supposedly marks the southern terminus where an estimated 2 million Lithuanians, Latvians and Estonians linked hands in 1989 in a protest against Soviet occupation, creating a human chain stretching 650 km from Vilnius to Tallinn. Since then, the tile has become a symbol of hope and inspiration for Vilnius residents and visitors, encouraging people to believe in miracles and remember those they have experienced and may yet still experience.
To find the tile, look for people laughing and twirling about by the Cathedral. Said to have mystical properties, the stebuklas tile is a popular place for wish-making. If you have a secret desire or dream, step onto the tile, close your eyes, silently pronounce your wish or intention, and turn around clockwise three times... Either your wish will come true or you'll be magically transported back to 1989 (or both, depending what you wish for...).
Comments