Vilnius Festivals
Vilnius wasn't crowned European Capital of Culture 2009 as the result of some sort of pity vote. The first of the Baltic capitals to win the title (Tallinn will have the honour in 2012), Vilnius has well-established itself as a city with a dynamic and diverse cultural life. As a crossroads between Latin Europe and the Baltic (and historically, a country of oft-shifting boundaries), Lithuania and its capital developed as a synthesis of varying influences, mythologies, customs, traditions, and artistic styles. Though homogenous as it may sometimes seem, national minorities (Poles, Russians, Belorussians, Ukrainians, Jews) make up 42% of Vilnius' population, lending their own customs to the colour of the city. Lithuania was also the last country in Europe to be 'Christianised' (late 14th century), leading to the retention of a strong pagan heritage which is still felt today in the country's unique folklore, festivities and superstitions.
Recently, and peaking with the city's Cultural Capital/millennial celebrations, mass festivities and open-air events have been increasing in frequency all over Vilnius. The city is well-equipped for such events with Cathedral Square, Vingis and Kalnu Parks, and the banks of the Neris River all being ideal, central locations for public happenings. More than 20 theatres operate in Vilnius, performing some 1,400 plays during the season. Four concert organisations put on over 1,200 concerts a year, and the city's 50 churches are also ideal venues. Vilnians have been extremely enthusiastic about cultural offerings, pouring out in droves to attend and constantly increasing the demand for more events. Below is a list of each year's extensive highlights to help you organise your trip around the most intriguing options and experience the extent of Vilnius' revelry. And of course don't forget to check our regularly updated monthly event listings to take a fine-tooth comb through the hairball of Vilnius happenings!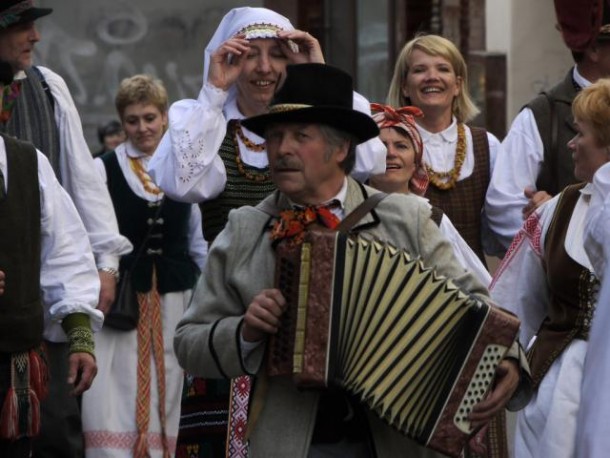 February
Vilnius Book Fair
The largest book fair in the Baltics, Vilnius Book Fair is attended by over 55,000 people a year and become a major cultural forum. In addition to the fair, numerous other book-related cultural events take place over these four days.
www.vilniausknygumuge.lt/en
Uzgavenes (Shrovetide)
Marking the end of winter, this is one of the most outrageous days in Vilnius. No outfit is too preposterous, or act too off-colour on Uzgavenes as thousands of locals liven the streets with their masks and costumes, spurring the city to mayhem. Expect strange performance art and mad, raving lunacy under the pretense of Lithuanian folklife. This celebration has been going on since pagan times as an emotional outlet after a pent-up winter. Festivities will take place all over the Old Town, but make the trip to Rumsiskes - a folklife theme park of sorts - where hundreds of people will be engaged in an epic snowball fight and the immolation of an enormous pagan idol/wicker woman named More with explosive breasts will take place. Nothing like explosive breasts to usher in the springtime...
www.etno.lt
March
Kaziukas Fair
For three days in early March Vilnius is cluttered with market stalls spilling over with the handicrafts, goods, and folk art that craftsmen from all over the country have been preparing all winter long in honour of the passing of St. Casimir - the patron saint of Lithuania. Representative of Kazuiko Muge is the fair's trademark "verbos" - colourful staffs made of dried flowers and herbs, heart-shaped honey cookies with popular Lithuanian names written on them (is your name Gediminas?) and bagel necklaces. One of the most enjoyable weekends of the year.
www.vilnius-tourism.lt
Kino Pavasaris (Cinema Spring)
This international film festival in late March/early April focuses on critically-acclaimed non-commercial films. For audio-visual art lovers, it is a rare chance to see well-regarded films not made for the masses. Increasingly successful and popular each year, the festival cooperates and culls its materials from all the best film festivals in the world. Attendees also have the opportunity to participate in film discussions and chat up industry celebs at the necessary after-parties.
www.kinopavasaris.lt
April
Uzupis Independence Day
One of the cheekiest dates in the Vilnius calendar, Uzupis aptly celebrates their mock sovereignty on April Fools Day. Though Uzupis' scruffy citizens haven't taken the initiative to make a proper festival out of this day, it's still well worth a stroll in their direction (2-litre Sveturys in tow), as you can expect a few surly street performances and gallery openings. The real joy is just entering the district and going through Uzupis customs on the bridge. Here you can exchange your litas for Uzupis' own currency and get your passport stamped with the official Uzupis seal - a true keepsake, but enjoy explaining it to the next hairy-eyed border guard who wants to scrutinise your travels.
Physics Day
Yeah, it sounds boring, but trust us, this is one of the most outlandish days in Vilnius' events calendar. What happens when the city hands the day over to Vilnius University's Physics department? Well, first there's a mock news conference (snooze), then a Physics Fair (oh boy), then a gigantic dinosaur rampages through the Old Town on its way to the University where it selects and devours a female philology student (what?!). Seriously. Tradition demands it. Read the full article on Physics Day 2007.
Monstrous Mayhem
Jauna Muzika
Jauna Muzika, or 'Young Music' Festival, annually boasts a varied repertoire of contemporary music trends, genres and styles. Obviously the focus is on young composers and their works.
www.jaunamuzika.lt
May
New Baltic Dance
Since 1997, this international dance festival has been bringing outstanding dance groups from all over Europe to Vilnius to perform their most recent productions.
www.vilniusfestivals.lt
International Poetry Festival
Held since 1965, Poetry Spring is the most eminent literary event in Lithuania. Over the course of only a few days, over 100 poetry readings, meetings, conferences, lectures, panel discussions, concerts and exhibition openings take place. Lithuania's most honoured poets give readings alongside foreign poets of many generations. The sheer volume of participants and audience members are what put this festival on the European cultural calendar. All are invited to come out each evening and listen to readings; nap in the back rows; participate in esoteric discussions; mingle and name-drop and generally try to be the most well-read person in the room. Let us go then you and I...
www.rsleidykla.lt
Skamba Skamba Kankliai
This absurdly-named annual folklore festival at the end of May presents folk groups from LT and abroad. Since '73 folksong concerts and folk dance performances have been held over several days alongside handicraft and folkware markets in the city squares. Go out and give a folk.
www.etno.lt
June
Vilnius Festival
Occupying most of June, the annual Vilnius Festival presents a number of black-tie musical concerts performed by the most prominent Lithuanian and foreign musicians. Held in the city's famed concert halls, the performances cover an array of styles and genres from classical and baroque to jazz and folk. Each year the festival premieres a new major work by a Lithuanian composer, as commissioned by the festival. First held in 1997, this prestigious festival has grown into an international event that now attracts artists and audiences from all over the world. Past festivals have featured such marquee performers as Wynton Marsalis and Paco de Lucia.
www.vilniusfestivals.lt
The Feast of Saint John
You knew the Lithuanians couldn't let the summer solstice pass by without some crazy pagan rites to accompany it. Enter the Feast of St. John, also known as 'Jonines' or 'Rasos.' On Midsummer's Day Vilnius is filled with herb-entwined gates and wheels - the symbols of St. John. Herbal markets, magic rituals and wreaths floating down the Neris River are givens. Most of the action occurs along the banks of the Neris, in Serikiskiu Park and in Verkiai Park.
July
World Lithuanian Song Festival
For almost a century, the Lithuanian Song Festival - organised every four years in Vilnius - has been a touchstone and embodiment of Lithuanian ethnic, cultural, and artistic identity. Successfully bridging folk traditions and contemporary arts, the festival was even recognised by UNESCO (those guys again...) for its significance. The six day festival, traditionally held in July, attracts 35,000 participants with its programme of folk songs, dances, art, music and more, making it the grandest and most vigourous display of Lithuanian culture imaginable. The exuding national pride is sure to warm the cockles of your heart and the chords of your voice. The last one was in 2007 (yeah, you missed it).
Pupils Song Festival
Same as above, but for youngsters. Since 1964, this festival has been forcing young people to participate in the Song Festival and coercing them to know and hopefully love the Lithuanian tradition of folksongs. It manages to corral an additional 20,000 participants into its UNESCO-laureled extravaganza.
www.ciurlioniomm.lt
August
St. Christopher Summer Music Festival
This festival is essentially a reward for Vilnius residents and a celebration of summertime. Hundreds of performances by Lithuanian and foreign musicians will be held during July and August, including operas and oratories, concerts of jazz, chamber and organ music.
www.kristupofestivaliai.lt
September
Days of the Capital City
This layman's festival is intended for everyone as a celebration of Vilnius - one of the greatest cities in world (someone once called it)! The week of 'Sostines Dienos' (Capital City Days) literally explodes with fireworks, carnivals, markets, concerts, street art and other happenings in the streets and squares of the city. Definitely a fortuitous time to be in Vilnius. (Are there inexplicable fireworks happening where you are right now?)
www.vilniusfestivals.lt
Tinklai Short Film Festival
This festival presents the latest international short films to the Vilnius audience in unconventional city spaces and theatres. The obligatory meetings/parties with the creators, directors, producers, etc. are also held.
www.tinklai.net
Sirenos Theatre Festival
The 'Sirens' International Theatre Festival attempts to close the growing gap between theatre and it's potential audience; to re-arouse the public's interest in the art and lure them into Vilnius theatres. The festival's tactics include displaying the work of the European masters of the genre, the latest Lithuanian productions and holding discussions with the preeminent voices of European theatre.
www.sirenos.lt
International Festival Of Fire Sculptures
The celebration of the autumnal equinox has always been a time of strange pagan tradition and festivity in LT, dating back to ancient times when Grand Duke Gediminas initiated it as a holiday to celebrate the ancestors and gods of the new harvest. As a wave of carnivals, dance, song, feasts, plays and pyrotechnics sets off across all of Lithuania, the highlight must certainly be Vilnius' Fire Sculpture Festival. Theatre troupes perform plays as an enormous 9 to 12 metre high goat made of straw is immolated to symbolise the changing of the seasons. Fireworks fitted inside the sculpture make this one of the city's greatest yearly spectacles.
www.etno.lt
Griezyne Instrumental Folklore Festival
Occurring every second year (on the evens) since 1992, this festival is the only of its kind (as so many strange Lithuanian festivals tend to be). By gathering some 70 groups from some 20-something countries, Griezyne familiarises the public with folk music and folk instruments from all over the world. Spoken word events, exhibits of ethnographic material, folk cinema and something called 'folcotheque' push this festival into its own category (whatever that may be...).
www.vilnius-tourism.lt
Banchetto Musicale
This music festival presents popular compositions from the medieval, Renaissance and Baroque periods as well as works that have never been performed in Lithuania before, inviting internationally recognized music companies to Vilnius during its three week run over September and October.
www.bmfestival.lt
October
Baltic Triennial Of International Art
Started in 1979, this event occurring every 3 years (psst - that's what 'triennial' means) was a major gathering of alternative art under communism, causing intense intellectual debate at political and artistic levels. Since independence it has grown into the largest international art event in Eastern Europe. The last Baltic Triennial was held in 2005, so you do the math...
www.cac.lt
GAIDA Contemporary Music Festival
Since 1991, this is the biggest contemporary music festival in LT, embracing all traditions and geographic locations. No other Lithuanian festival commissions as many new works as GAIDA - primarily in the genres of chamber and symphonic music, electronic music, multimedia projects, music theatre, sound installations and club events.
www.vilniusfestivals.lt
Vilnius Jazz Festival
Every city's gotta have one. Vilnius' Jazz Festival introduces Lithuanian audiences to the contemporary trends of the jazz world by bringing international names to town. A threshold between East and West, this festival is garnering cred from jazz critics for creating new trends of its own.
www.vilniusjazz.lt
November
Scanorama
This film forum/festival showcases the best cinema of the Nordic countries in Vilnius' downtown theatres.
www.scanorama.lt
The Great Parade of Musicians!
Not so much a parade as a marathon, this legendary event goes off for 9 hours once a year at the National Philharmonic showcasing the best Lithuanian musicians.
www.muzikosbarai.lt
December
Christmas in the Capital
Tis the season throughout December with an enormous Christmas tree and resident Santa in Cathedral Square, boku musical events in Vilnius' 50 churches, contests, charity events, an Uzupis celebration and the procession of the Three Kings.
www.vilnius.lt
New Year's Eve Celebrations
New Year's is a great time to be in Vilnius. Typically kicking off immediately after Christmas and lasting to January 2nd, concerts, fireworks and revelry will occupy Kalnu and Vingis parks, the Cathedral and City Hall squares. More traditional classical music concerts are held in the National Philharmonic Hall, the Opera and Ballet Theatre, Congress palace and St. John's Church.
www.vilnius.lt
Photo by smaedli (CC by 3.0)
Comments
A blog related to Vilnius - European Capital of Culture 2009 is available here. http://www.2009vilnius.com
Reply
Thanks for the info! This is by far the most comprehensive list of annual events in Vilnius I've found anywhere. Has the Lithuanian tourist board seen this? They could use some help...
Reply