A Guide to Vilnius Nightlife
A word on Lithuanians: they are incredibly charming, hospitable, and hell-bent on having a good time.
Upon our first outing into the unknown streets of the city at night (for example), we had the good fortune of asking two young university students directions to a bar that no longer existed. In reply, one of the young ladies produced two handles of alcohol (one vodka, one tequila) from her handbag and bade us drink up while we waited idly for the little green man to usher us through the crosswalk. An unprovoked diatribe against the self-proclaimed stereotype that Lithuanians are all vodka-swilling alcoholics (though the evidence was rather irrefutable) shortly followed, and soon we found ourselves in the midst of a university party at Bix, surrounded by college-age girls, drinking the aforementioned handles quite openly in the upstairs. We could go on to describe the sunrise that morning and the circumstances of sleeping arrangements, but the point is that Lithuanians are extremely friendly, accommodating and love little more than a good time. As a visitor to Vilnius you will find no shortage of great places to piss away the hours or play the field. Our bar and club directory should serve as a solid survey of what's available and where to go, whatever your taste or titillation. Can't be bothered to sort through all your options? We break it down below: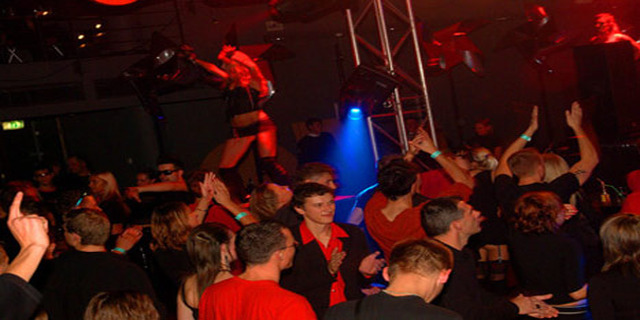 Last night in a Galaxy not so far away...
With an endless array of great nightlife options, many of Vilnius' venues seem to be competing as the end-all-be-all, with an all-bases-covered approach offering food, drink, DJs or live music and huge dance floors that stay packed well into the wee hours. Still, with the focus of much of the activity centering around the Old Town, bar/club-hopping is an attractive option, hard as it may be to pull yourself out of some venues or organize your cohorts in one cohesive direction. While many clubs don't get going until 23:00, Cozy is a great place to start the evening, enjoying the comfy character of its name before it becomes too crowded, claustrophobic and carcinogenic. Cafe de Paris is also a hip, early-evening hangout, though you can expect it to be crowded anytime, day or night. For a more groovy, sedated atmosphere, try Ibish Lounge (near the Gates of Dawn), Tipo Zoro's small and stylish padded confines, the casual jive of Briusly, or SMC's clever, cool and curious characters. Beer connoisseurs will want to start the evening at Avilys - Vilnius' prime brew-pub - with a honey beer and assortment of beer snacks. Sky Bar, with its stunning 22nd-floor view of the Old Town and delicious cocktails make it worth a peek, but the corresponding up-market prices and general lack of activity should have you heading to the lift after a drink or two. Similarly nichy is All Stars Sports Bar - with more teles than anywhere else in the country, showing all manner of sporting events, it's a good place for the lads to begin an ambitiously belligerent piss-up, but the electric hum of the light-boxes has the potential to drain anyone's momentum and motivation after a while...
For live-music lovers, Jazz & Rock Cafe and Tamsta have quality concerts Thursday through Saturday night, which may make a nice prelude or wind-up to a long night out.
If you're just in town with your mates for a weekend to get completely pissed and piss all over this wonderful city, might we direct you to the plethora of nightclubs you'll easily identify as your natural habitat: Prospekto Pub on Gedimino will gladly accommodate your roving band of rogues and the girls are used to being groped at this point. Likewise, Gravity and Galaxy are good destinations for testosterone-fueled tours of the club scene. Lithuanian Wild Club is a fun night out for those looking to oscillate on the dance floor or ogle waitresses in skimpy outfits, and the adult club in the back is a convenient way to be a sex tourist without feeling too slimy. [We leave you to navigate the rest of Vilnius' immodest adult entertainment options on your own.] Smack in the centre and hard to miss is Helios, a modern, sanitary, soulless club that stays packed full of people preening themselves. If it's not to your taste, you can walk a few dozen meters to RingBar, the boxing-themed sports bar upstairs, and see how many rounds you and the lads can go before somebody gets knocked out. In the same complex you'll also find City Casino, with the highest minimum bets in the city to ensure you leave as penniless as possible, Villa Latina, a more up-class cocktail bar, and Eden Club, a strip-joint that will be happy to shuttle you around town to all their locations until you've seen half the skin in the city (I thought we weren't going to talk about this).
Arguably one of the best and most popular options for the foreigner on-the-prowl is Brodvejus, an always fun, nothing-fancy free-for-all which never takes a night off. Similarly, Bix Baras and The Pub both offer unpretentious, although slightly uninspired atmospheres that attract lots of university students and ex-pats. To go on a more upscale, affluent outing, Pabo Latino is one of the most lavish locations in town - a truly luxurious interior, balcony and private courtyard create the swanky ambiance of an international arms dealer's enclave (without the artillery and FBI standoffs). Across the street, you'll find world-class DJs and plenty of eye candy at Fashionclub, where everyone looks like a gyrating, jiggling porcelain doll (and breaks as easily). If you're more in the mood for elegance than exuberance, head toward the Gates of Dawn and you'll find Vilnius' classiest cocktail bar, Iki Ausros, sporting snappy drinks and smart women. The super-trendy Absento Fejos can be found a few doors down and an intoxicating stop inside will surely induce strange visions of sexy nymphets flitting about in revealing outfits blowing kisses at anyone with a big enough bankroll to buy them a drink. Be warned: the next morning you're likely to wake with a foggy memory, shaking the glitter from your wallet, wondering what happened to all those litas...
Vilnius also has a growing alternative, underground scene with clubs like Play, Satta, Intro, and Woo attracting hip, young university students who are always eager to meet new people and show them "the real Vilnius." A tour of these places will quickly have you recognizing familiar faces and making friends while feeling like you've become a part of genuine, under-the-radar scene most visitors surely miss. Vilnius Life recommends a visit to Intro (not far from St. Anne's cathedral) on Wednesday night for an iery glimpse at the city's growing reggae scene, though admittedly, if you were born before Marley's death (1981, that is), you may feel too old for this student union-style hangout. Thursday night is definitely the night to go to Satta - if you can find it that is. We suggest arranging a rendezvous with someone you meet at Intro Wednesday night so they can take you by the hand to this uber-underground hideout; it's worth it. Head to Play Club Friday for the best indy rock music you've heard in Eastern Europe (not such a difficult accolade) and the great house-party atmosphere. To complete the circuit, get stuck in at Woo Saturday night, and, congratulations, you can officially certify yourself as a Vilnius hipster.
If that's not counter-culture enough for you; if you're a crusty squatter with a crustier canine looking for like-minded hardcore kids and activists that self-publish zines on do-it-yourself acts of anarchy, there's a scene for you too: We recommend you go to hardcore.lt to find local establishment-fighters and pick the most incendiary battles in Vilnius.
For gay travellers, there is one option and one option only - the legendary Men's Factory. A bit on the edge of town, Men's Factory is a high-energy hideout eager to 'accommodate' all orientations replete with specially-designed areas to do so and phalluses just about everywhere. A recklessly fun club for dancing and cruising, Men's Factory isn't just for men - in fact many women frequent the place as well. Visit our Gay Vilnius page, for more on the city's gay nightlife, or lack thereof.
Whatever your fancy or fetish, Vilnius has something for your taste, be it good or bad. And this is only just the beginning: be sure to peruse the depths of our bar and club directory to get the full story. Once you've immersed yourself give us your own impressions by adding reviews to the venues you've visited, and let us know if we're missing out on anything. One of the most gratifying aspects of the city's nightlife is that it might not always be so self-evident where the party is, but trust us, even on the coldest Sunday night of the year with a little detective work you can find a few full-on debauches. Just ask one of the many charming locals to point you in the right direction...
Comments