Getting around Vilnius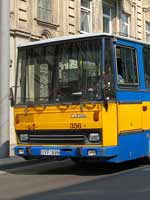 Above: Bus-ta move! Below: Bike expired on this spot...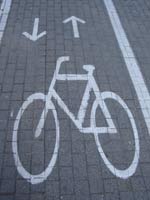 By Taxi
Taxi-drivers...the somewhat infrequent winners of best-loved citizen competitions. However, whilst it's true that they like a nice present on top of the standard fare, and that they'll sometimes charge you for one regardless, haggling is all part of the adventure. The basic thing to remember is you'll always pay much less if you ring for a cab beforehand. There are several established companies that you can try, such as the English-speaking Ekipazas (tel: 1446) or Martonas (1422), Kabrioletas (1445) and Mersera (1421).
By Car
To be frank, a car in central Vilnius could be more trouble than its worth. The expansive Old Town is pedestrianised and most of the other city attractions are in easy walking distance. The current strategy in Vilnius is to shift all parking lots away from the Old Town to the right bank of the River Neris. However, some hotels have private space for guests, whilst beyond the Old Town, decent multi-story and underground parking spaces have emerged in the last few years. If you're here for a major trip and planning forays into the countryside, the car remains the supreme form of locomotion (we're still waiting for those nifty jet-packs that 007 had in 'You Only Live Twice' - hope springs eternal....)
Public Transportation
As we mentioned, in the Old Town, only the phenomenally lazy would seek out public transport. You might as well hire a Roman litter, which would be quite pleasant come to think of it. But if you're staying a little further out or planning trips to places like Trakai or Panerai, negotiating the public transport system is a must.
The main train and bus station are located next door to each other just outside the Old Town centre. 500,000 people use the bus system each working day and altogether there are close to 500 bus and trolley bus routes (trolley-buses are the ones attached to overhead cables). However, the authorities are getting increasingly miffed by the pranksters who are jumping the fares. So to avoid embarrassment, and the possibility of a hefty fine, snap up your 'talonas' from the bus-driver right away. It shouldn't cost you more 1.40 litas.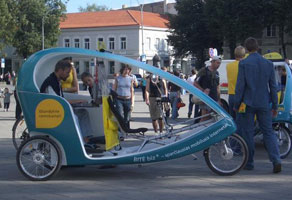 Comments