Travelling to Prague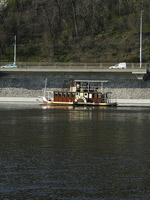 Above: Probably not the most popular way to get to the city... Left: Fly in and get an aerial view. Below: Most likely the easiest way to get here.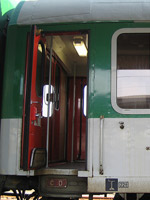 By air
As an incredibly popular travel destination, Prague is very well connected by all the major, as well as budget airlines. Flights to Prague are best booked well in advance, especially during the high season, when certain flights, particularly at weekends, can get quite expensive if booked at the last minute.
Ruzyne is the International Airport for Prague and is situated about 20km north from the city. The journey between the two should take roughly 30 minutes to an hour, depending on the mode of transport you've chosen. City and transport maps are available at the airport's Tourist Information Centre.
The quickest way of making the journey is by taxi, but be warned: Prague's taxis have a justified reputation for being downright dodgy in their business practices when dealing with foreigners. They will never miss an opportunity to fleece an unsuspecting tourist, but if you follow the golden rules - avoid taxis without illuminated signs, agree a price before starting your journey, and ensure the meter is switched on - you will be fine. A taxi ride from the airport to the city centre should cost about 700Kc.
A slower but cheaper option is to catch one of the "Cedaz" buses that leave about every half an hour between 5:30 a.m. and 9:30 p.m. They go to Namesti Republiky and a ticket costs about 90Kc.
The cheapest option of all is to catch the 119 bus from the airport terminal to Dejvicka subway station, from where you can speed into the city centre (using line A), happy in the knowledge that to do so cost a mere 75Kc.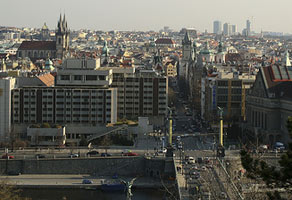 By train
If you are on an inter-rail trip, or just prefer the romance of rail, then you will be pleased to know that Prague is extremely well served by international railway networks. There are 2 main railway stations: Hlavni Nadrazi (Prague central station) and Praha Holesovice (Holesovice station). The busiest trains seem to come from Berlin (5.5 hours away) Vienna (4.5 hours) and Budapest (6.5 hours). You can pretty much go by train to anywhere in Europe from Prague; its central location making it the perfect launching pad for trips to Krakow, Warsaw, or Sofia - to name but a few.
As with any large station in any European city, keep your wits about you and be aware of your surroundings, as pick-pockets and petty thieves occasionally target tourists here.
By bus
Again, Prague's central location means that there is no shortage of bus services to the city from all over Europe. The main bus station is called Florenc and is on subway lines B and C. If you are on a tight budget then we'd recommend the bus as the views are spectacular whichever direction you approach the city (and country) from. Only if journey time is of no importance though, as a journey from London (for example) takes 23 hours!
By car
You must be brave to even be considering this! The roads are fairly ropey in the Czech Republic (though improving greatly all the time), but on the bright side there's hardly ever traffic jams on the motorways. The same can't be said for traffic in Prague itself however, as it is pretty much stand-still from Monday to Friday, and you can increase that to include the weekends during peak visiting season. Our advice? Don't drive in Prague unless you can't really avoid it, but consider it a great way to see attractions outside the city on your own terms.
Comments
Don't read all the horror stories about stag groups spoiling this city etc etc. It's still a marvellous place to visit. Go - you won't be disappointed.
Reply