Language Tips!
We're not going to lie to you: the Czech language is VERY hard for English speakers to get to grips with. We won't go into all the complicated reasons why (...cases, declensions, conjugations, participles, tongue-twisting pronunciation...) just trust us: Czech is a nightmare for all but the most linguistically talented students! Of course all this really means that it is all the more impressive when you do successfully utter even a few words in the Slavic tongue...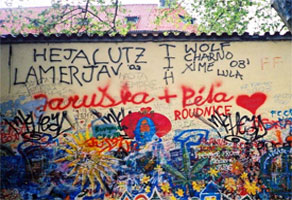 There are a whole range of Czech words that look roughly similar to their English equivalents, so signs such as POLICIE, RESTAURACE, HOTEL, and TAXI won't be a problem for you, but here are a handful of others that may be useful: Kavarna - Cafe
Knihkupectvi- Book Shop
Reznik- Butchery
Obchod - Shop
Prasa - Newsagent
Pusobiste - Station
Letiste - Airport

Even if you're only here for a short while you should be able to master one or two of the basics. Pretty much every Czech person you meet (i.e. those working in shops, hotels, restuarants etc) will speak English, and certainly virtually all young people will too, but the locals will like you better if you at least make the effort; don't be at all surprised to find that the level of service improves noticably after you give Czech a try, even if you massacre the pronounciation!
Comments