Travelling to Riga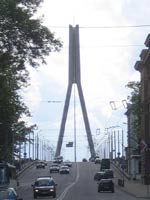 Above: A bridge over dirty water

Below: Runs despite leaves on the track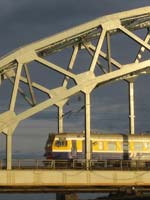 By air

Whereas you can't fly to Riga from anywhere in the world, the Latvian capital is widely accessible by air from most major European cities. AirBaltic alone travels to over thirty destinations, from Barcelona and Paris, to Moscow and Vienna. Those looking for cheap flights will be pleased to know that Ryanair have good coverage of the UK and Ireland, flying to London Stansted, Liverpool, Glasgow (Prestwick) and Dublin, whilst Easyjet fly to Berlin Schoenfeld. For those that like a little more leg room British Airways run a service to London Gatwick. Once you've arrived in Riga, no real dramas should present themselves. Bureaux de change and cash machines are on hand, and you can either jump in a taxi to the centre of town for 7-10 lats, or buses 22 and 22a will get you there too for less than the price of an English postage stamp. Journey time around 20 mins. See our airport page for more.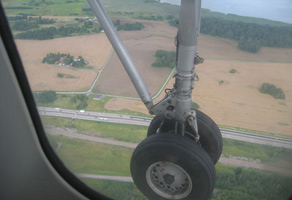 By rail

Getting to Latvia by rail is only really possible at the moment from an Easterly direction. The old Soviet connection means that travel to and from Moscow and St. Petersburg is easy with daily services running; and training it to Kiev, Lviv, Vilnius and Odessa is also possible. More locally the train will also serve you well if you are heading to Jurmala, Riga's nearby beach resort. Find the station south east of the Old Town, just past the Stockmann shopping centre.


By bus

If you're coming overland to Riga, the chances are you'll be arriving by coach rather than by rail. Ecolines, Eurolines and Nordeka are some of the companies which offer routes to and from the likes of Tallinn, Vilnius, Warsaw, Krakow and Prague - as well as a wide range of Western European destinations. If you're Russia-bound you can also make it there by bus. These services tend to be modern and reliable in nature, although there's no accounting of course for the drivers' tastes in music - so bring earplugs or be prepared to sing along to the Scorpions. Riga's bus station comprises of a spacious depot and modern building with tourist info and the likes. Simply cross the main road to get into the Old Town.


By car

Driving abroad is always a bit more risky than driving at home. This is certainly the case in Latvia, where drivers enjoy a deservedly bad reputation. Nonetheless, if you're planning a road trip of the Baltics simply make sure all your papers are in order and drive with extra care - particularly once you reach the more congested roads of Riga - and you shouldn't experience any mishaps.
Comments