Money matters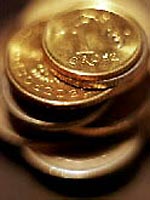 The Czech currency is called the Koruna (CZK) and the exchange rate usually sits at about 28 Korunas to 1 Euro. Goods and sundries are expensive for the Czech Republic, but cheap for people from most other countries. Meals, drinks, snacks ets also follow the same pattern, but many businesses do operate as tourist traps, charging up to (and very occasionally more than) 50CZK for a beer; locals wouldn't consider paying more than 25CZK.
One word of advice: never ever change money on the street. The odds are you're likely to have someone approach you at some point during your stay, offering you outlandishly good exchange rates: it's too good to be true and the normal scam is for them to give you notes in a similar looking currency so you don't catch on straight away.
Travellers cheques can be cashed in only a few places in the city. Your best bet in centre is the Vseobecna Uverova bank on the corner of Postova & Obchodna, which is open Monday to Friday from 9am to 4pm.
Credit cards are accepted in most places and certainly in the large stores or those of Western origin. If you're in a shop that looks a bit olde-worldy then it's a good idea to check they accept credit cards: you don't want to confuse some poor old biddy by waving some new fangled plastic thing at her do you?
One last tip: watch out for sneaky bureau de changes who surreptitiously stick a zero in where it's not meant to be, therefore cheating you out of a large chunk of change. For example, for Euros, you may well see the odd board that lists EUR 1 = 20.87773 CZK except with the "0" and "." written in tiny - almost illegible - letters, making it appear to be 28.7773. Keep on your toes for this because it's too late if you only realise after exchanging cash: after doing so you have no legal recourse for getting it back.
Comments