Prague Airport
Located on the northwest sticks of Prague, the Prague International Airport (airport code PRG) is the biggest airport in the Czech Republic and in Central and Eastern Europe, connecting 103 destinations around the world. Since 2002, a second terminal has been under construction, whose main purpose is to check in passengers for flights to EU countries, following the rules set out by the Schengen Agreements. The new terminal is only a physical manifestation of the airport's exponential growth, which served over 10 million passengers in a year for the first time in 2005, and has now repeated this in November 2006.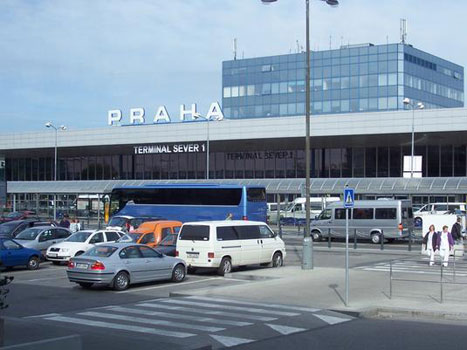 As of 7 November 2006, the Prague Airport has introduced new security measures to comply with EU standards, which means that there will now stricter checks of items passengers take on board airplanes. So far, security procedures have only taken longer for passengers flying to Latvia, Russia and Ukraine, mostly because of language issues.
The biggest changes to the rules for passengers concern the carrying of liquids. Luckily, passengers can still continue to take on board unlimited quantities of liquids and gels bought in airport shops, which will be packed and sealed with the receipt in a transparent plastic bag by shop clerks. In addition, passengers may carry their own liquids and gels for personal use, up to 100 ml for each container, bottle or tube. Get out those measuring cups, as these must also be placed in a transparent and sealable plastic bag with a maximum capacity of one litre.
In general, Prague Airport recommends that passengers arrive at the airport sufficiently in advance, usually about 2 hours before take-off, and possibly longer for flights to the US. Another change that passengers should reckon with affects their hand luggage. Unfortunately, travellers trying to sneak a small suitcase on board as hand luggage to not pay extra baggage costs on cheap flights will have problems starting at the end of March 2007, as the maximum size for onboard hand luggage will be 56 x 45 x 25 cm, or about the size of a laptop bag, backpack, or very small suitcase.
For more information you can visit our travel page, or go to the airport's official website, or call the airport's info line at +420 220113314.
Comments
Friday May 13 we spent a few hours in transit from Zagreb to Stockholm after a walking tour in Croatia. When we passed the security control to get to Gate C3 around 19.10 three of the men in our group, all between 60 and 65 years old, were quite upset about the way we were treated by the security staff. We were all very polite, cooperative and perfectly sober. One of the security staff, a tall man, touched their private parts and behaved very impolitely and aggressively. No information was given. We think you should hire people with a certain amount of social skills and language competence for a job like this. As for us, we will avoid Prague Airport from now on.
Reply