Big Sister is Watching You...
We had thought reality TV couldn't sink any lower, couldn't get any sleazier... and we were wrong, of course. While shows such as "Big Brother" show humanity at its worst, with jealousy, pettiness, and rudeness being the norm, a new type of reality programming has popped up in Prague: Big Sister. However, don't expect this program to appear on network TV; in fact, in order to watch it, you have to pay 29.95 Euros a month. That's because the show takes place in the most unlikely of settings: a brothel.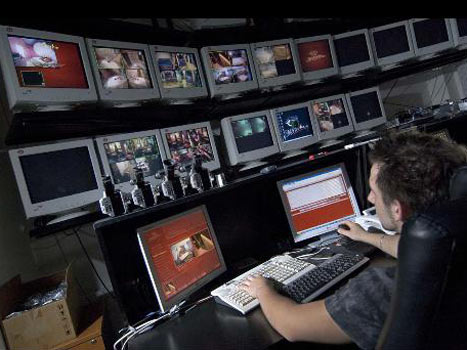 Above: The Big Sister control room, where the action is... watched.
Yes, count on the city with a Sex Machines Museum to invent the first reality pornography! If the reality TV revolution brought us the concept of watching ordinary people instead of actors and celebrities, the concept of reality porn just takes that further; for 30 Euros a month, one can watch ordinary people instead of porn stars! And for free, the brothel's guests can become immortalized on film, for better or worse.
Every room in the brothel has several cameras that are always on, and are constantly monitored by a central control room with dozens of monitors and technicians. In addition to the private rooms, which range in themes from heaven and hell to the igloo room that features a giant polar bear overlooking the bed, the club includes a strip show, pool and sauna - all under the watchful eyes of Big Sister and its online subscribers. Depending on the season, the brothel offers between 25 to 45 prostitutes, all of them free of charge - to those who sign the broadcast release forms, that is. Each night sees about a dozen "performers", while the website itself gets over 10,000 hits a day. Most of the women working for the brothel are from the Czech Republic and Slovakia, and make about four times the average Czech wage. All of this takes place in a renovated tenement building just outside of the Old Town. Thanks to the Czech Republic's liberal laws regarding things like sex and drugs, the brothel is able to legally exist in the city centre.
So, is it National Geographic for adults? A version of The Real World that's actually entertaining? You can always visit Big Sister yourself, for your own fifteen minutes (or less) of fame!
Big Sister
Nadrazni 46
Prague 1
Tel: +420 257310043
Daily: 17:00 - 05:00
http://www.bigsister.net
Comments