Travelling to Kiev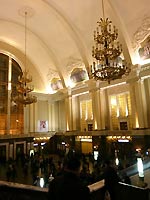 Above: Train it in to Kiev's magnificent station

Left: Or else commandeer an old military plane

Below: Then again, why not hire a flash car?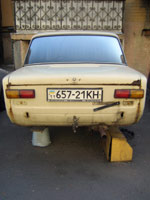 By air

Kiev's principal airport, Boryspil State International Airport is a somewhat inconvenient 35km outside the city. Buses run every 20 or 30 minutes to Kiev's central train station, where you can continue your journey by metro, or you can take a taxi for around 150Hr. Make sure you agree the fare first. A train shuttle service is in the making. You can fly to Boryspil from London, Paris, Madrid and Amsterdam, as well of course to Eastern destinations such as Moscow, Warsaw, Vienna, Riga, Prague and Lviv. Kiev's other airport - Kyiv-Zhulyany - serves one or two international destinations and can be found just 8km southwest of the centre. Opt for shuttle bus no. 9 to Peremohy Square, or else barter the taxi down to 50Hr.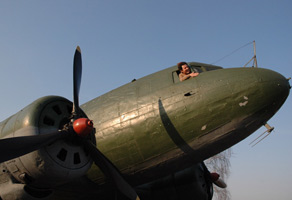 By rail

Kiev's main train station (known simply as 'Vokzal') is actually two terminal buildings, central and south, connected by a vast hallway which leads down to the platforms. Part Soviet and part space age the train station is perhaps the perfect introduction to the duality of the city and there's a definite sense of excitement of arriving in this throbbing transport hub. Trains arrive and depart from such far flung locales as Berlin, Krakow, Zagreb, Budapest and Belgrade and naturally all of Ukraine is accessible from here too. If you're intending on buying an international ticket at the station bring your passport with you. The overnight trains are archaic but comfortable, although don't expect too much from the toilet facilities. The fact that you can buy beer from your carriage attendant makes up for such shortcomings...

By bus

You can find Kiev's central bus station at Moskovs'ka Square, near Lybids'ka metro station. The Autolux company are one of the best carriers and they run daily services to the likes of Lviv, Odessa, Yalta and Simferopol. If you fancy going international you're almost certainly better going by plane or train as Kiev is a fair old distance from the other European capitals.

By car

A sense of adventure is definitely needed by anyone attempting to reach Kiev from West or Central Europe by car. So is a reliable car as the distances involved are not small. Even from Poland, Ukraine's closest neighbour to the West, you're looking at a 450km distance to the border. If you're determined make sure you bring your vehicle registration certificate with you or your auto odyssey will have been in vain. Once in Ukraine have fun dodging potholes and cops. Oncoming traffic may tip you off about the latter with a flash of their lights.
Comments