Kiev Nightlife
Some come to Kiev to visit the ancient domes of St. Sophia's Cathedral, others to pay their homage at the sacred Caves Monastery. Still more come to visit Independence Square and the heart of the Orange Revolution or to enjoy the pedestrian bustle of Kreshatyk Street. However, of all the many fine reasons to visit Kiev, there can't be many finer than to sample the legendary Kiev nightlife!
From bog-standard boozers to elite cocktail joints, from classy casinos to scintalliting strip clubs, from underground rock venues to hands-in-the-air house havens, Kiev has got a bit of everything - and whichever nightspot you happen to visit, it's normally going off at a hundred miles an hour.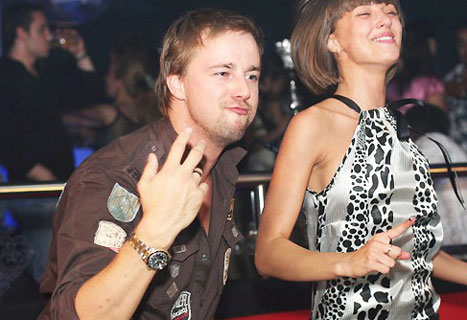 If you're more of a bar lizard than club fiend, then you may want to start the night in either one of Kiev's popular Irish pubs. O'Briens is a good bet for the genuine pub atmosphere, whilst Golden Gate is a bit more upmarket. For those however you couldn't think of anything worse than coming all the way to Kiev only to find themselves listening to a whacky Paddy talking crap about Leprechauns or some such rubbish, then go authentic Ukrainian at one of Kiev's finest beer taverns. Shato and Viola's Bierstube both serve excellent brews in a fun and friendly environs. Meanwhile cool cats will want to head for Antresol and Babuin to hang out with fellow artistic types and get the lowdown on the murky world of Ukrainian politics. Live music aficionados meanwhile should head to Dockers for a heady mix of rock and vodka.
Once you've got a few beers and vodkas under your belt, it's time to explore Kiev's nightlife proper. Kiev's nightclubs take some seeing to be believed thanks to their raucous atmosphere, full on hedonism and - let's face it - ridiculously good looking girls. In fact many clubs operate a strict face control policy, only letting the cutest girls through the threshold. Whilst such shallow and prejudiced behaviour can't possibly be condoned it does have rather spectacular results... If you fancy seeing them for yourself then put on your smartest shirt and shoes and head down to the likes of Faberge, Decadence House or Arena. The latter is one of the best nightclubs in town, with fine house music and even finer cheekbones on display. An excellent option for those that fancy something slightly less pretentious is PaTiPa, which still boasts stunning women but is a little younger, fun and friendlier. Finally, if you're lucky enough to be in Kyiv in sweltering summer then a night at Privilege is a must. Yes, the same Privilege that has the cool kids of Ibiza in a spin has it's own branch in Kiev. An open air party under the stars, just by the Dynamo Kiev stadium. Unforgettable!
Kiev is truly a party-goers paradise, and fans of nightlife really can't go wrong. Bring your suavest clubbing gear and plenty of hryvnia and you'll have a fantastic time!
Comments