A Guide to Kiev's Airports
Kiev is served by a total of three airports: Borispil International Airport, Kyiv Zhulyany Airport and Gostomel Airport. Borispil serves the vast majority of international flights, with Zhulyany (also confusingly called simply Kyiv/Kiev International Airport) serving mainly domestic and short-haul destinations. Gostomel is a cargo airport.
Borispil International Airport
Lying almost thirty kilometres east of Kiev, Borispil (alternative spellings include Boryspil and Borispol) carries the vast amount of international passengers to the capital - around 2.5 million at last count. In fact the airport is full to capacity and plans are afoot for two new terminals, hopefully to be completed in time for Euro 2012.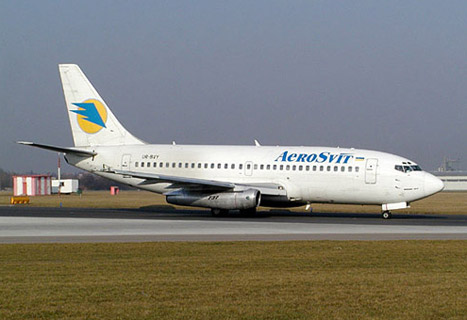 Currently Terminal A serves mainly destinations within Ukraine, such as Lviv, Odessa, Donetsk and Simferopol, where from Terminal B you can catch flights to almost any capital city in Europe and many further afield such as New York. The Ukrainian airline, Aerosvit is by far the largest carrier and they can whisk you off everywhere from Tallinn to Tel Aviv. Other major airlines flying to Borispol include BA, LOT and KLM.
Inside the airport you will find everything you need to help pass the time waiting for your flight. Restaurants, cafes, bars and shops are all on hand as is a tourist information point, bureaux d'exchanges and first aid point. If however you're arriving at the airport and are keen to get out of there as soon as possible then look for the Atass shuttle buses which leave for Kiev's central train station every 20 minutes or so. Journey time is about an hour and tickets are 30Hr. The cost of a taxi meanwhile depends mostly on the (dis)honesty of your driver... Whatever they offer you halve it and bargain hard.
Kyiv Zhulyany International Airport
Known as alternatively Zhulyany Airport, Kiev International Airport and Kyiv International Airport (Kiev and Kyiv are interchangeable names for the city), this transport node was once the main landing and departure point for travellers to the capital. The construction of Boryspil in 1959 however saw the important of the airport wane in throughout the '60s and beyond. Today a handful of smallfry airlines will get you around the Ukraine, such as Crimea Air who fly to Simferopol. If you're travelling domestically you will find Zhulyany just 8km south-west of Kiev's city centre. Get there by trolleybus no. 9, from either Independence Square or the Main Train Station, or take a taxi for what should be no more than 60Hr.
Comments
Beware of taking SKY Taxi's from Borispil Airport - they are con merchants - best to find someone who lives there to organise a Taxi for you - you should pay between 25 and 35 Euros. maybe try Kiev travel agents. but stay well away from SKY Taxis - you have been warned.
Reply
I do not agree with 1 for Zhuliany airport. It is only a regional airport, not an international one. I fly to Kiev every month and arrived already several times at Borispol and also at Zhuliany. The last year there were big improvements in both airports. Zhuliany is building brand new terminals. Taking the bus to the centre of Kiev is difficult if you are not familiar with it. I paid 5 hryvne for a trip to Vokzalna (central station). But for a tourist it is impossible to know which bus to take and where to change to another bus. At the busstop everything is written in Rusian or Ukranian, so impossible to understand for most tourists. I never found trolleybus 9. Borispol has also opened a new terminal (D) and improved transport to Kiev by bus. Now you can take Skybus for 25 hryvne to Vokzalna (central station). Last year they also improved the information for the passengers. Now you find many English signs. In2010-2011 this was still a big problem because all was in Russian or Ukranian. Impossible to understand for most tourists. So both airports changed dramatically the last two years, in a positive way. Borispol 8/10 Zhuliany 6/10
Reply
The Princess and the pig. I have flown into and out off Borispol Airport several times over the past few years, and recently I decided to use Zhulyany, so I could make my comparisons between the two. Yes, the Wizzair flights from and to the UK are typically a little cheaper than BA and UIA/Aerosvit, and so too are the Zhulyany taxi fares into and from the centre. Sadly though, this is as good as it gets! My first impression of Zhulyany was of an aircraft grave yard, where the decaying relics of yester year were left to rot where they had coughed and gasped their last breath. The terminal continued this theme; it is old, crumbling, poorly laid out, devoid of adequate signs, lacking modern facilities, and manned by unhelpful and often ignorant staff - who appear to think they are there for their own benefit which has nothing whatsoever to do with providing a service to fellow Ukrainian nationals or foreign visitors. Compare this with Borispol, and the contrast is very stark! Borispol is modern, efficient, slick, and the staff are helpful, knowledgeable, pleasant, they also smile a lot, and it is obvious they take a pride in the jobs they are doing and the services they provide. Bless you Borispol, you are a truly modern international airport which has thankfully retained the lovely and endearing qualities of what to a foreign visitor typifies what Ukraine is all about. You are a Princess! Shame on you Zhulyany! In the future having a new terminal might give you more modern facilities, but I still think it will be a bit like dressing a pig in an expensive ball gown in the hope she will become miraculously transformed into a beautiful Princess. In the real world it does not quite work like this: in a world that is rapidly changing and is becoming increasingly international, there is still a place within each of us where first impressions, irrespective of where or how they are made, remain important, and it is these all important first impressions that so often determine whether we see a Princess or a pig, or whether we feel as though we have been treated like royalty or like livestock. Borispol = 10 Zhulyany = 1
Reply
24 Jan 11, I arrived from Moscow at Boryspil Airport. I ignored the taxi sharks and looked for the bus (outside airport main entrance)to Kiev central train station. It costs 25 nryvnia (8 = $1.) In 50 minutes I arrived at Kiev central station. Macdonalds is on the opposite side of the road. From this entrance I had to walk 150 meters through station to other end, down escalator, and to street exit. For metro station 'Voksalna' turn left and walk 100 meters. One 'jeton' costs 2 nryvnia and takes you to any station. Ask your hotel before travelling which metro station they are near and which bus number goes to hotel. Other choice: minimum price for taxi anywhere is 78 nryvnia.
Reply
Out of Date. Borispol now has an additional new terminal open for international flights. Wizz air Ukraine has also announced that it is switching its international flights from Borispol to Zhulyany. Has Zhulyany been refurbished or upgraded for this purpose?
Reply
Discussion of all possible transport links along the route Kiev - Boryspil airport / airport "Borispol" - Kiev. People's opinions on the best solutions aeroport-borispol.blogspot.com
Reply