A Guide to Kiev's Airports
Kiev is served by a total of three airports: Borispil International Airport, Kyiv Zhulyany Airport and Gostomel Airport. Borispil serves the vast majority of international flights, with Zhulyany (also confusingly called simply Kyiv/Kiev International Airport) serving mainly domestic and short-haul destinations. Gostomel is a cargo airport.
Borispil International Airport
Lying almost thirty kilometres east of Kiev, Borispil (alternative spellings include Boryspil and Borispol) carries the vast amount of international passengers to the capital - around 2.5 million at last count. In fact the airport is full to capacity and plans are afoot for two new terminals, hopefully to be completed in time for Euro 2012.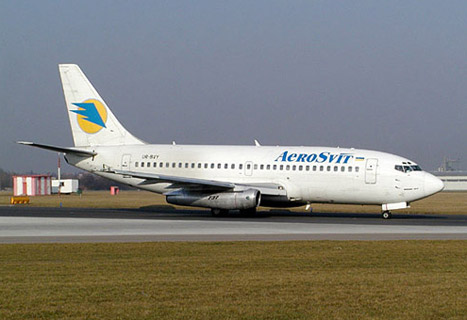 Currently Terminal A serves mainly destinations within Ukraine, such as Lviv, Odessa, Donetsk and Simferopol, where from Terminal B you can catch flights to almost any capital city in Europe and many further afield such as New York. The Ukrainian airline, Aerosvit is by far the largest carrier and they can whisk you off everywhere from Tallinn to Tel Aviv. Other major airlines flying to Borispol include BA, LOT and KLM.
Inside the airport you will find everything you need to help pass the time waiting for your flight. Restaurants, cafes, bars and shops are all on hand as is a tourist information point, bureaux d'exchanges and first aid point. If however you're arriving at the airport and are keen to get out of there as soon as possible then look for the Atass shuttle buses which leave for Kiev's central train station every 20 minutes or so. Journey time is about an hour and tickets are 30Hr. The cost of a taxi meanwhile depends mostly on the (dis)honesty of your driver... Whatever they offer you halve it and bargain hard.
Kyiv Zhulyany International Airport
Known as alternatively Zhulyany Airport, Kiev International Airport and Kyiv International Airport (Kiev and Kyiv are interchangeable names for the city), this transport node was once the main landing and departure point for travellers to the capital. The construction of Boryspil in 1959 however saw the important of the airport wane in throughout the '60s and beyond. Today a handful of smallfry airlines will get you around the Ukraine, such as Crimea Air who fly to Simferopol. If you're travelling domestically you will find Zhulyany just 8km south-west of Kiev's city centre. Get there by trolleybus no. 9, from either Independence Square or the Main Train Station, or take a taxi for what should be no more than 60Hr.
Comments