Travel - Getting to Warsaw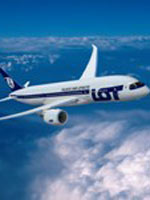 Above: Poland's finest Left: Come rain, shine or snow! Below: The reindeer enjoy Christmas off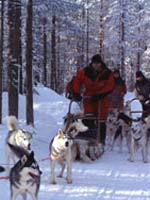 By air
Warsaw's Frederic Chopin Airport is situated in Okecie, 10 km south west of the city centre.
All the major airlines fly to Warsaw, and since 2003 the city was also served by budget carriers. However, since the airport has been charging more to fly out of the main terminal only Wizz Air, Germanwings and Norwegian Air Shuttle remain. Following the closure of the ghastly Etiuda terminal in March 2009 - the temporary terminal from which low-cost carriers used to depart - Terminal 1 took over cheap-flight departure duties.
When booking with a regular airline, make sure you spend at least a weekend in Poland, otherwise you'll face the hefty business rate. The flight from most UK airports takes around two-and-a-half hours. If you plan to fly during the winter, be prepared for delays due to fog or ice, or the occasional impromptu diversion.
By rail
If you're a romantic sort and decide to come to Warsaw by rail you won't be disappointed. The Polish rail system is stuck in a mid-twentieth century time warp with the trains travelling at a wonderful leisurely pace. In summer this allows you to open the windows, smell the rural smells and watch the countryside pass lazily by. But the dream will end with your arrival at Warsaw's main station (Warszawa Centralna). The underground concourse hasn't changed in a decade and looks and feels like the set of a post-apocalyptic sci-fi movie, complete with some of the characters. The only advantage it has is that it's slap in the city centre and, once you've negotiated the network of tunnels and found your way out, it's easy to get anywhere else on the buses and trams. But be sure to keep a close eye on your luggage when you're anywhere in the station.
By bus
You may not be over-endeared of the thought of 24 hours in a bus from London to Warsaw, but it is actually not too bad - no smoking is allowed aboard the comfortable buses, and Poles, as ever, are impeccably behaved. For around 60GBP (USD 100) return to London, it can't be beaten. Internal trips, on the other hand, are normally aboard old buses with a distinctly retro feel. Good in small doses.
By car
Travelling to Warsaw from the UK by car is not the epic journey you might think it is. The whole trip takes about 24 hours if you drive non-stop from Calais, but if you take it easy and sleep at night, you'll be in Warsaw in two days or so. But look out for the Polish roads. About half of the main drag to Warsaw is pristine 'autostrada' (for which you'll have to pay), but the rest is still single file traffic, and the road surface can be pretty poor in places. Once you're in Warsaw, the road signs are a bit confusing and you need to keep a sharp eye out for pedestrians and have your wits about you at all times as the traffic moves very fast. Ensure you have your registration and insurance documents with you at all times, as well as your passport and driving licence. Spot checks on vehicles by grim-faced police are common.
So, if you want to give it a go (and why not?) you can check timetables courtesy of the Polish Rail Network (PKP) Just remember to use the Polish spellings (i.e. Krakow for Cracow, Warszawa for Warsaw). Watch the landmass of Europe slip past, as you are treated to Hollywood movies dubbed into Polish (one actor plays all the voices, men and women alike).
Once across the channel head up the coast to Belgium, then into the Netherlands and, before you know it, you'll be in Germany, speeding comfortably along the autobahns. And once you've got to the E30, just west of Hannover, it's plane sailing straight through to Warsaw. Overtaking can be difficult in a right-hand drive car, so best not to bother. Navigation in the city is actually very easy as there aren't a vast number of main streets. Once you've figured them out you'll be fine.
Comments