Warsaw Airport
The Frederic Chopin International Airport
The Frederic Chopin International Airport in Warsaw is by far the biggest in Poland, covering an impressive 834 hectares of land and handling about 50% of the country's air traffic. Nine million people travelled to over 80 destinations in 2008, a passenger growth of 2% from the year before.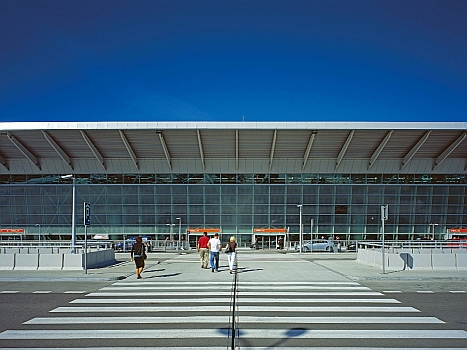 The new Terminal 2 at Warsaw's Frederic Chopin Airport
(architektura.info)
Getting from the airport to the city...
Comprising of now only two terminals (the cattle shed-like Etiuda terminal - where most of the budget airlines used to depart from - thankfully closed in March 2009), the Frederic Chopin is just 10km south west of Warsaw in Okecie, and the journey time by bus is usually only around 25 minutes. Between the 175 and 188 you'll be able to catch a ride into the city centre every ten minutes or so, or at night jump on the N32 and you'll get right to Warsaw Central Station (Dworzec Centralny). Tickets for the bus cost a mere 2.8 PLN (approx. $1, 0.70, 0.60) and you can snag one at any kiosk; or buy from the driver for an additional 0.5 PLN. For more information, check the website of Warsaw's Public Transport Authority (ZTM).

If you're happy to splash out on your own 'chaffeur', a taxi is bound to prove quicker and easier than the bus and not too much more expensive either. Do not accept any offers for a taxi while you are inside the terminal - they will charge you much more than the rank outside. You shouldn't have any trouble finding one on the rank outside arrivals, but if you want real peace of mind (see our comments in this section!) then book a taxi cab transfer in advance.
Travelling from town to the airport? Then simply reverse the directions. Head to Warsaw Central Station for buses, or if you are travelling by your own set of wheels then find the Zwirki i Wigury street. It takes you all the way from Warsaw centre directly to the airport.
Flight Delayed?
Well, you'll find plenty of stuff to do around 'ol Chopin to pass the time... Top facilities, shopping and information points are on hand to make your life that bit more comfortable.

Airport Info - (6am to 10pm) or try +48 22 650 4220
Airport Telephone Operator - +48 22 650 1111
Bank - (M-F: 8am to 8pm, Sat: 8am to 2pm). A host of ATMs and over half a dozen Bureaux de Change got you covered
Car Rental - all the top brands, 7 in total. Drive safely!
Avis - phone number: +48 (22) 650 48 69
Hertz - phone number: +48 (22) 650 28 96
Europcar - phone number: +48 (22) 650 25 64
Budget - phone number: +48 (22) 650 40 62
National - phone number: +48 (22) 606 92 02
Payless - phone number: +48 (22) 650 14 84
Sixt - phone number: +48 (22) 650 20 31
Chapel - In the transit area. For schedule and further info, check the Chapel's website
First Aid- For all those nasty paper cuts, etc. For more serious injuries call +48 22 650 2444
Food and Drink - A sit down restaurant, fast food and ice-cream. What else could you want? That's right: a nice chilled pint of beer to wash it all down...
Insurance - In case you just don't trust those airlines with everything
Internet - There are two Wi-Fi hotspots (provided by Era and Orange) that can be accessed in all areas of Terminal 1 to ease you of your Facebook withdrawal symptoms
Java - indulge in a luxurious latte, or a quick espresso if hurtling past to catch your escaping plane.
Lost Baggage Office - +48 22 650 2006
Luggage Storage - +48 22 650 2006
Press - Get your mags and papers in one of the many kiosks
Post Office - For that letter you forgot to send your mother.

Retail Shopping- Booze, toys, bling, all that stuff you forgot to buy... Go shoppin' in Chopin (had to say it, sorry)
Tourist Info - (Terminal 2, 8am to 8pm) or call +48 22 194 31

Tourist Agencies - Skip these guys and just peruse our site instead!
Transit Hotel - If you are stuck waiting for a connection, just ask for the Falcon Hotel or call: +48 22 650 4891

VAT Refunds - (6am to 10pm) Not from around here? ('here' = EU) talk to these guys about giving you some money back!
Transferring to rail
If you are flying to Warsaw and transferring to a train to Krakow for example, then follow the same instructions as before to Warsaw Central Station (Dworzec Centralny), where you can buy your tickets and board your train. The queues at the ticket booths can be pretty big, so keep an eye out for automated 'fast ticket' machines, which accept most major credit cards. Finally don't forget to check our sister site Cracow Life, before you arrive. They can sort you out with all the hotels, tours and info you need!
OK. That about wraps up the basics for Warsaw's Frederic Chopin Airport. If you need more specific info you might want to check out the airport's official site. Read about Krakow Airport on our sister site. Meanwhile, if there is something else you were looking for on this page but didn't find, please let us know!
Comments