Travelling to Berlin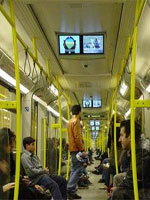 Above: Like the circle line, except far more reliable Below: The typically Teutonic Tempelhof terminal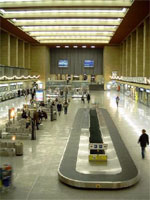 By air
Currently Berlin has two international airports: Tegel (TXL) and Schoenefeld (SXF). That will change however by 2011, when the expansion of Schoenefeld is scheduled to be completed. Then Tegel will be closed and the Schoenefeld's new incarnation - the mighty Berlin Brandenburg International Airport - will handle all flights to and from the capital. Berlin is well served by major international and local airlines. Prices for flights to Berlin are competitive, especially if booked well in advance.
Tegel, in Reinickendorf, is the current official international airport of Berlin. It is also the busiest and every year more than 11 million passengers fly through it (technically more than its actual legal capacity!). Tegel is easily accessible via public transport; just take buses X9, 109, 128 or TXL.
Schoenefeld is situated south east of Berlin in Brandenburg and serves principally charter flights and low-cost carriers (like EasyJet, Germanwings and Ryanair). The cheap airlines in fact account for about 70% of Schonefeld's air traffic. You can get to Schoenefeld by train (RE7, RB22, RB14), the airport express, the overground S45 and S9 and the buses 162, 163, 171, 734, N60 and N71. By car you can take the A100 or the A113. More info on Berlin airports is available at www.berlin-airport.de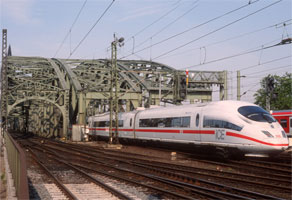 By train
As of 2006, Berlin is the proud owner of a spanking new main train station, Berlin Hauptbahnhof. It was worth the wait! The realisation of the Hauptbahnhof project was a dream come true for the German Capital which can now boast the biggest train station in Europe, and probably the best looking too. It's vast latticed glass roof is a tourist attraction in itself and sure to impress any visitors arriving by rail. All major services start from one of Hauptbahnhof's fourteen platforms before heading on via some of Berlin's other prominent stations. If you're travelling north to the likes of Gdansk, Riga or Vilnius expect to go via Berlin-Gesundbrunnen. Services to Vienna, Ljubljana and Bucharest meanwhile pass through S?dkreuz. Services to Hamburg and Amsterdam via Berlin-Spandau, and services to East European cities such as Prague, Cracow or Moscow go via Ostbahnhof.
By bus
Berlin's Central Bus Station (Zentraler Omnibusbahnhof Berlin, or ZOB) is found on Messedamm in Charlottenburg just opposite the radio tower (Funkturm) and the International Congress Centre. From here you can travel to all major destinations in Europe and Germany. To get into central Berlin from the ZOB take the U2 (U-Bahn, line 2) at Kaiserdamm, the S4, S45 or S46 (S-Bahn, lines 4, 45 and 46) at Witzleben, or the buses X34, X49, 104, 139 or 149 at Messedamm. There are waiting halls, luggage lockers, toilets, parking, taxi stands, restaurants and car rental at the ZOB.
By car
Whatever direction you are coming from you will enter Berlin via the Berliner Ring, the Autobahn (A10), that circles the city. The western part of the inner city is half circled by another Autobahn, the Berliner Stadtring (A100). From the A100 you can get to the A10 on one of the following Autobahns: A111 to Hamburg and Rostock, A113 to Dresden and Cottbus and A115 to Hannover and Leipzig (also called AVUS). In the north of Berlin there is the A114 that leads to Szczecin (Poland). Watch your speed as even on Autobahns the limit is sometimes as low as 80km/h!
Comments