Berlin Travel Tips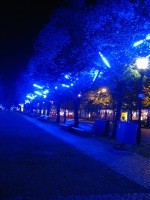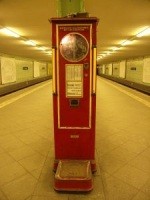 Most Berliners speak English to some degree, with the youngsters in particular tending to be somewhere between very good and fluent. Nonetheless it is still a trifle rude to presume that if you speak English you will be understood. Learning even a few pleasantries in German could prove invaluable and, even if you mangle them horribly, people tend to appreciate you giving it a go... Entschuldigen Sie bitte, Sprechen Sie Englisch?
Once considered the last bastion of the smoker, Berlin is in fact leading Germany to a controversial smoking ban in public. Controversial because smoking is regarded by Berliners as something as a holy personal freedom - even by many non-smokers! Whilst there's still some confusion we advise not to light up in any public buildings or on public transport, and to check first before you light up in a pub, cafe, or restaurant.
Berlin is one of the sunniest cities in Germany and summers here are normally fairly warm: 25 to 30 degrees celsius is the norm from June to August. The winters however can be bitterly cold and snow is a certainty, rather than a novelty. In short if you're coming in autumn or winter or early spring then bring some thermals and a hat and gloves, and check our weather forecast before you fly.
Berlin is generally a very safe city and anyone exercising common sense should be able to avoid any unpleasant experiences. Pickpockets are more common around major transport hubs and tend to target obvious tourists. Walking around at night is fine in central areas, but it is advisable to steer clear of the eastern suburbs after nightfall if you don't look like a local.
You can avoid an unpleasant experience with the Berlin ticket inspectors on public transport if you remember to validate your ticket before you get on board your train, tram etc. There should be a machine next to the ticket vendor. Ask a local if you're not sure!
Berliners are very environmentally friendly and love to recycle things. Littering the streets is a big no no. Meanwhile bring your bottle back to the bar, and you will often be reimbursed 50 cents on the price of your drink!
Above: Follow the neon lights...
Below: Check if those bratwursts have tipped you off the scales.
Tipping is generally unnecessary in Berlin as most restaurants and hotels add service charges to the bill. This is a dying trend however, so check the menu/brochure before deciding what to do as the cost of service should be clearly stated therein.
Comments
RAMONES MUSEUM BERLIN - the world's first and only museum dedicated to THE RAMONES. More than original 500 memorabilia items, nice people and great coffe at CAFE MANIA. Go there!
Reply