Poor But Sexy Berlin!
Despite being the capital of Germany, ironically Berlin is probably the least German of all the major cities of this great nation. Divided in two after the war, whilst West Germany flourished, and the likes of Stuttgart, Frankfurt, Munich and Hamburg became prosperous and affluent cities, Berlin was stuck in Soviet-controlled East Germany and split in half by the infamous Berlin wall. The result is that today the capital of Europe's richest nation is still partly recovering from the shock of Communism and exhibiting many of the characteristics of other New European cities waking from a hibernation of fifty odd years of repression. Is this a bad thing? Certainly not! Part of the excitement of the city is the mix of pristine in the Western half and the shabby chic vibe of old East Berlin.
Of course it's the latter half, with its cheap house prices and underground bars which attracts the many students and artists and gives Berlin its liberal, cool vibe and cutting edge contemporary art scene (This is not the place to drink beer by the litre and slap lederhosened thighs!). In how many other major capitals of the world can you drink in derelict buildings which double as art galleries and party through the weekend in disused power stations? Not many, and maybe not in Berlin for much longer. Even as we speak the city is getting a facelift, and indeed much of the previous ramshackle parts of the city have become gentrified already. Come and sample the unique Berlin vibe with a luxury city break whilst it still lives up to its 'poor but sexy' tag - and before it becomes another faceless, commercial capital!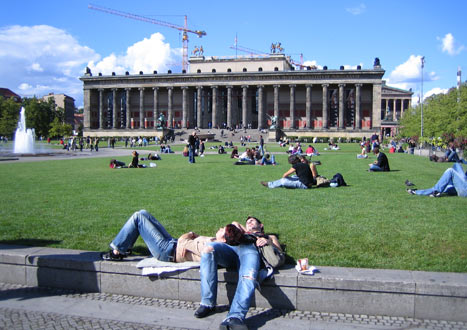 If you're thinking of coming to Berlin Germany, then let Berlin Life be your guide. We'll talk you through all the major tourist attractions, such as Brandenburg Gate, Museuminsel and of course the remnants of the Berlin wall, and we've also got tonnes of reviews of the best hotels, restaurants, nightclubs, shops, and places to have fun, plus we'll also keep you up-to-date with the latest news and events.
On a practical tip we got loads of travel advice on getting to Berlin and navigating the public transport system, a handy language page for getting you started on the German lingo, a list of useful services and an invaluable weather page and online map. Still need more info? Then drop us a line and we'll do our best to help... or why not post a question on our forum?
Comments