Money advice - Berlin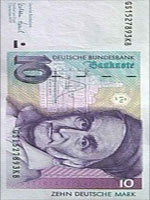 In this respect, Berlin is still not 100% ready for foreign tourists, with many shops still not accepting credit cards. International stores and big hotels shouldn't be a problem, but for everything else carry some of the cold, hard stuff.
Money talks, baby, money talks... And in Berlin it usually talks in the form of cold hard cash! You shouldn't anticipate any problems - you are in the capital of one of the world's largest economies after all - but its always worth having a fair few Euros on you, and a card at the ready for topping up your funds when you pass an ATM.
ATMs (Cash Machines)
There are ATMs all over the city, however they are slightly harder to come by than in London for example, so if you pass one by it's worth bolstering your wallet - you don't want to run out at a key moment... Like in between bars on a pub crawl!
Cheques
Get out of the dark ages!
Bureaux de Change (Wechselstuben)
Check for the best rates, but you're unlikely to get ripped off. Most banks will have a bureau you can use, although Wechselstuben tend to offer slightly better maths.
Comments