Katowice International Airport
Katowice International Airport ("Miedzynarodowy Port Lotniczy Katowice-Pyrzowice: in Polish, airport code KTW), is located in the town of Pyrzowice, from which it gets its name. At 30 km north of the city centre of Katowice, it's easily accessible from Katowice, which itself is well-connected with bigger cities like Cracow and Wroclaw.
Getting to Krakow from Katowice Airport:
The easiest way to get to Krakow from Katowice is to arrange for a transfer straight from the airport to your hotel in Krakow. We can have a taxi driver waiting for you when you arrive. Name on a board, help with luggage - the whole bit. Just email us for more info. We can help make your travel completely hassle-free!
Another option is taking the train to Krakow, which takes about one and a half hours. The Katowice central station is located in the centre of the city. To get there directly from the airport, take the 'Lotnisko Airport Bus', which goes regularly from the central train station to the airport and back. A timetable for the bus can be found here.
Buses run frequently from Katowice to Krakow. The Matuszek buses run several times a day from the airport to the Krakow Main Train Station. Or, if your Polish is pretty polished, you can try to catch one of the white mini-buses from the centre, which will save you a little time and green, but might not be as comfortable as other options (particularly if you have a lot of luggage).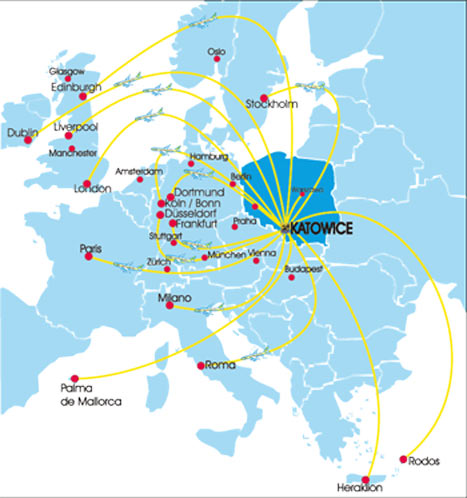 Flights and Airlines
Thanks to the popularity of low-cost airlines, Katowice airport has grown from a tiny local airport to an international hub, most often serving passengers on their way to Cracow. The following airlines now serve Katowice, with low-fare airlines like Wizz Air (probably the busiest airline in Katowice) opening more and more connections regularly:
Air France
Centralwings
Eurolot
Exin
LOT Polish Airlines
Lufthansa
White Eagle Aviation
Wizz Air
Be sure to check the airport's official website (in English) for a full listing of connections and departures and arrivals.
Comments