Krakow Parking Zones
Krakow Parking and Traffic. We'll save you money on tickets... Buy us a beer!
Getting around Krakow by car can be frustrating. Some signs have more writing on them then a Mickiewicz novel. You may be driving along, minding the speed limit and being very cautious when all of a sudden - wham! Ticket! For what? Entering the wrong zone...
Many a newcomer to Krakow falls prey to the complex system of traffic zones around here. You can drive on this street but not that one, unless it's a full moon - well, maybe it's not that complex... But no matter how you slice it, for the Krakow rookie (and even for us regulars) confusion is a way of life, when it comes to driving or parking in the city center.
No worries! As always, we've got the answers. Below you'll find a quick rundown of where to drive and where to park in Krakow. Now, actually finding a spot - that's a different story altogether. Happy hunting!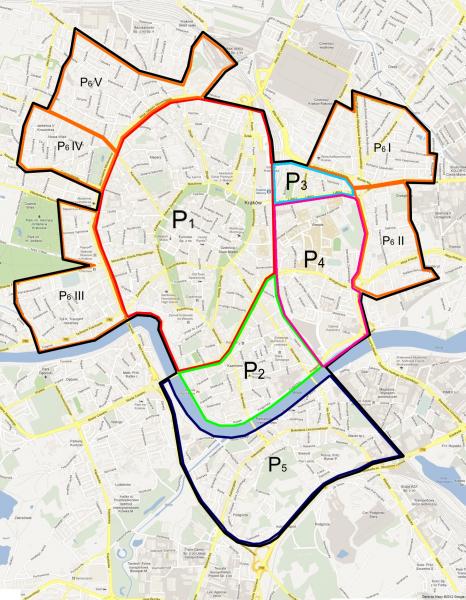 Zone A
Pedestrian and Bicycle traffic only
Zone B
Residential zone: Pedestrian right of way. Max speed limit = 20 km/h. Parking permitted only in specially marked areas.
Zone C
Limited parking zone: Maximum parking time = 2 hours. Monday through Saturday, 10 AM - 6 PM, parking card required. New automated parking coupon machines have been installed in many locations. Be sure to look carefully as some are obscured by construction, trees or parked cars. Parking cards also are available from one of the many street kiosks, Post Offices, City Hall or directly from a parking attendant. Price = app. 3 PLN / hr, but may vary by location.
Can't read something? No problem - check out our interactive zoomable map. That should help you find what you're looking for. Still need more? Get your hands on a printed map once in town. Your best bet is to go to the info point on ul Jana 4. There you'll find a handy (and free!) map of central Krakow.
Read all about 2014 changes in the parking zone here
Comments