Painting The Town Pink!
Berlin has a long, if not uninterrupted reputation for tolerance, which stretches as far back as King Frederick the Great in the 18th Century. The Prussian Monarch was an enlightened thinker and friend of Voltaire, who cultivated religious and sexual tolerance - indeed it is likely that he himself was gay.
However Berlin's status as a gay Mecca was truly born in the famously louche and hedonistic times of the 1920s (aka the Golden Twenties) when Marlene Dietrich and co. were living the fast life and the likes of Christopher Isherwood were drawn to the capital in search of handsome boys. Needless to say when Hitler rose to power homosexuals suffered a reversal of fortune and were persecuted by the Nazis who labeled gays as deviants.
After WWII Berlin was divided up between the Allied powers of America, Britain, France and Russia, with the latter famously raising the Berlin Wall to keep citizens of East Berlin from defecting to the West. And yet despite Communism holding sway over one half of the city, Berlin returned to its liberal ideals and once more became a haven of gay activity on both sides of the divide. With reunification in 1989 and an increasing acceptance of gay and lesbian lifestyles worldwide, Berlin's status as one of the planet's largest gaytropolises has been firmly cemented. No one need feel the odd one out in Berlin when scores of gay nightclubs, saunas, festivals, hotels and publications exist - even the mayor of Berlin himself is gay, and proud of it!
As for a specific gay areas, Schoneburg is perhaps the pinkest district, with Motzstrasse, Fuggerstrasse and Nollendorf Platz boasting a high concentration of cafes, bars and saunas; but Mitte, Prenzlauer Berg, Kreuzberg and Tiergarten all have healthy scenes and hotspots are spread throughout the whole of Berlin.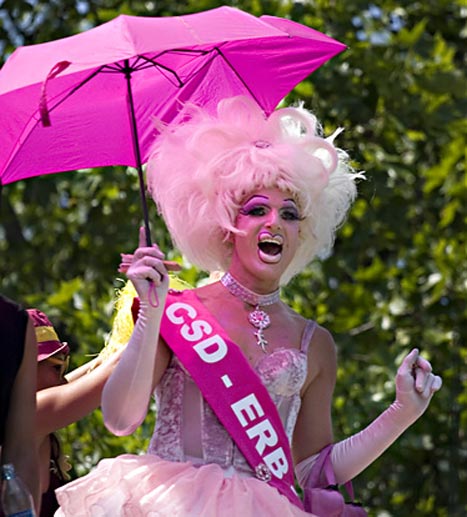 Above: Berlin's mayor out for a Sunday stroll...
Berlin Gay Bars, Clubs & Saunas
You won't struggle to find a gay bar in Berlin, and indeed many of the city's most renowned clubs are more gay than straight. Factor in the cities notorious sex clubs and some saucy saunas and you have the recipe for a good time...
Hafen
Berlin's original gay hang out is still a great place to socialise and flirt.
SchwuZ
A number of different nights on offer at SchwuZ, including hip and dance sounds, and girls nights.
Berio
A cool cafe for relaxing and topping up your tan.
Die Busche
Berlin's biggest gay disco. Flirty, young and fun
GMF
This famous dance party is a must for house and techno fans, with glamour and good vibes in abundance. The action normally takes place on Sundays at Weekend club.
www.gmf-berlin.de
Berghain Club
Berlin's most world famous club is dominated by gay punters. Serious techno sounds - and tough door policy that keeps out the tourists. Panorama Bar upstairs is also not to be missed.
Kit Kat Club
The legendary sex club welcomes all comers...
Bangaluu
Fancy dining club with a mixed, well-heeled crowd
SO36
Legendary club which attracts a predominantly gay and lesbian crowd to themed events...
Rio
Funky hard-to-find venue with a hip mixed crowd.
Treibhaus Sauna
Schonhauser Allee 132, Prenzlauer Berg
Lots of naughty action available at this popular sauna, where entry also gets you some credit at the bar.
www.treibhaus-sauna.de
Steam Sauna Club
Kurfurstenstrasse 113, Tiergarten
Bio sauna, steam sauna and Finnish sauna are amongst the many distraction available at SSC. On Sundays it's full of clubbers coming down and recuperating.
www.steam-sauna.de

Berlin Gay Accommodation
Enjoy Bed and Breakfast
Bulowstrasse, Schoneburg
Cheap rooms in one of Berlin's premier gay districts.
www.ebab.de
Gaybed
Perleberger Strasse, Schoneburg
Does what is says on the tin! Clean and reasonably priced. www.gaybed.de
Tom's House
Eisenacher Strasse, Schoneburg
Friendly family run guesthouse near the action.
www.toms-house-alster-berlin.de
Of course there are many ordinary hotels and hostels that will also gladly accept the pink pound - or Euro, or dollar etc...

Berlin Gay Points of Interest
Gay Museum
Mehringdamm 61, Kreuzberg
A museum which enlightens its visitors to homosexual history, art and culture in Berlin, including the persecution of homosexuals during the time of the 3rd Reich.
www.schwulesmuseum.de
Memorial To Homosexuals Persecuted by the Nazis
...soon to be unveiled is a memorial monument to the ten of thousands who were either imprisoned or incarcerated by the Nazis.
Of course all this is just the tip of the iceberg, and adventurers will find that Berlin has much more to offer than mentioned within the limiting confines of this page. Sergej and Siegessaule publications have monthly events listings, which will help you get the most out of the scene, whilst advice about safe sex, AIDs prevention, or just navigating your way around the city can be found at the handy call centre Mann-O-Meter.
Comments