Poznan

Poznan has had its Tourist Card for ten years now,...
3 min read
Leave a comment
If the word 'theatre' calls to mind two hours of...
2 min read
5 comments
Pick Poznan!
Did you say Potsdam? No! This is Poznan. The capital of the Wielkopolska region and easily accessible from most European cities. Although a largely industrial city it has a high student population and a rich history which makes for an interesting and fun trip for people from all walks of life. The main attractions of the city are centred around Stary Rynek (the old square). The town hall and vendors' houses are particularly beautiful and the bars and restaurants surrounding them compliment their splendour.
The nightlife in Poznan is thriving and party-goers can expect all-night entertainment in every corner of the city. For those that prefer the daylight hours however, must-see attractions include Mickiewicz Square, the Zamek, Franciscan Church, the National Museum and Renaissance Hall. Get outdoors in the summer and visit the expansive and beautiful Malta Lake or the Citadel Park. Whether it's a cultural eye-opener or a fun weekend with your friends that you're looking for then the Poznan experience is one not to be missed!
Can't get enough of Polska? Then why not call in on our friends in Warsaw, Krakow, Gdansk, Wroclaw and Zakopane? This country has a lot to offer her guests and each of her great cities abounds in culture, atmosphere and things to do - make the most of your trip by checking out our sites before you go!
Poznan Trivia Did you know that the Lawica Airport in Poznan is the oldest in Poland, and has been in operation since 1911?
Poznan has the only Museum of Musical Instruments in Poland, and only one of three that exist in Europe.
Poznan's Archicathedral Basilica of St. Peter and St. Paul is the oldest church in Poland, dating back to the 10th century.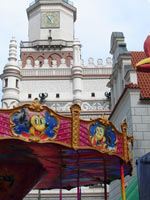 Quicklinks