Invest in Poznan!
The property bubble in big cities like Krakow and Warsaw may be bursting, but that's just clearing the way for previously ignored cities like Wroclaw and Poznan to suddenly take the spotlight. The start of 2008 has seen many predictions from such top financial publications as the Warsaw Business Journal and the Warsaw Voice that Poznan will be the "next big thing" in Poland as far as property goes.
But, you ask, how does one take advantage of such a promising market? Well, we've compiled some Polish and foreign real estate companies below that provide services in English. They can even navigate the tricky Polish property laws, and get you that house or flat in the Old Town you've been dreaming of!
The Law on Purchasing a Property in Poland
Citizens of EU countries, as well as Icelanders, Norwegians and Liechtensteiners have the easiest time buying property in Poland, although if you're after farmland or forest, things are a little more complicated.
However, as far as urban property goes, applicants shouldn't encounter too many problems, whether you're a citizen of one the aforementioned countries or not. The latter groups have to apply for a special permit from the Ministry of Internal Affairs, but this is generally forthcoming, provided you're not a notorious criminal.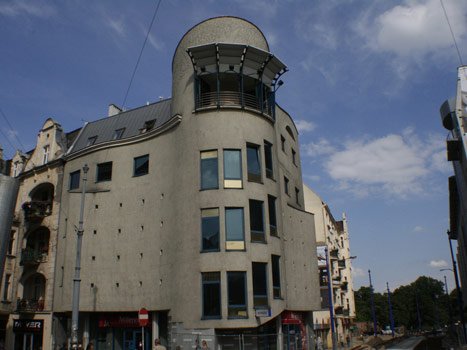 Above: A prime piece of Poznan real estate
Real Estate Firms in Poznan
Ober Haus
Residential and commercial property services
Contact: ul. Sw. Marcin 2
+48 (61) 8519000
poznan@ober-haus.com
www.ober-haus.com
Nieruchomosci Blaszczyk
Specialize in residential property
Contact: ul. Mlynska 3
+48 (0) 500496285, 502752840
www.blaszczyk.com.pl
ANNA Real Estate Agency
Commercial and industrial properties
Contact: Os. Kosmonautow 13/34
+48 (61) 8411810
anna@anna.com.pl
www.anna.com.pl/eng/about.htm
Forum Nieruchomosci
Residential properties, homes, flats
Contact: ul. Wroclawska 21/9
+48 (61) 8510502
biuro@forum-nieruchomosci.pl
www.forum-nieruchomosci.pl
Koliba Nieruchomosci
Flats, apartments, and houses
Contact: ul. Grunwaldzka 382
+48 (61) 6617035
nieruchomosci@koliba.poznan.pl
www.koliba.poznan.pl
Gwarant
Residential and commercial
Contact: ul. Zbaszynska 9a
+48 (61) 6625182
www.gwarant-nieruchomosci.pl
Gryfus
Commercial spaces, countryside property
Contact: ul. Grunwaldzka 19, 3p
+48 (61) 6673333
biuro@gryfus.com
www.gryfus.com
Comments