Poznan Nightlife
There's good news for party lovers arriving in Poznan. The nightlife here is said to rival , and locals would even say better , Poland's more obvious party destinations such as Warsaw, Wroclaw and Krakow. In fact Poznan is considered at the very forefront of electro and dance music in Poland, and many of the nation's top DJs and producers hail from this part of the country. Great news then for dance freaks; if making shapes to the latest sub-genre of house is your bag baby, then you can't go far wrong with nights out at the likes of Cute, Kukabura and SQ Club.
For those that would rather listen to a car alarm than stomach another night of techno there's no need to fear either - Poznan has a traditional party atmosphere that few cities its size can match. The Rynek (Main Square) is the centre of the action, and during the warmer months the heart of Poznan is crowded with sippers drinking up the sun along with their beer. If it's a bit nippy out then the various interiors of many a good venue mean that revellers don't have to go far for a good time. Places like Tapas, Pod Minogi, Lizard King and Brovaria blur the lines between restaurant, bar, and club and provide for many a legendary late night out. The latter two are also good choices for live music.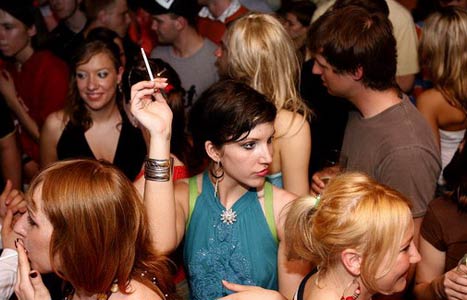 Whereas the Rynek can rightfully be considered the central hub of Poznan's nightlife, there's plenty of venues scattered elsewhere in the Old Town for those prepared to delve. With Poznan's large student population you'll find a decent scattering of raw, laid-back drinking dens. Check out Kisielice, Dragon and Czytelnia (ul. Marcin 69) for some authentic artsy anarchy. Other favourites with party-goers of all kinds include Proletaryat, the obligatory Commie-themed bar, The Dubliner (ul. Marcin 80/82), the obligatory Irish bar and Tuba (ul. Male Grabary 6), the obligatory meatmarket with lasers, girls and commercial hits!
Finally for those who didn't know it, Poland has quite a strong penchant for jazz. If you're a fellow fan then Blue Note (ul. Kosciuszki 76), Sushi Jazz Sarp (Stary Rynek 56) and Czerwony Fortepian (ul. Wroniecka 18) are the places to head.
Hopefully you've got a few tips to take with you on your adventures into the Poznan nightlife, but there's much more to be discovered than can be written here, so be prepared to follow your nose. Whereas you're more likely to make life friends than to encounter any trouble in Poznan, if you do get any dirty looks from the local rude-boys simply dispel the danger with a cheap round of vodka and talk of Polish national heroes. Bigging up Jerzy Dudek, Artur Boruc (Celtic goalie) and Robert Kubica (Poland's answer to Schumacher) proves that you love Poland as much as your own mother.
Comments