Doing Business in Poznan
With business in Poland booming, it's no wonder that more and more companies are looking to start up operations in the likes of Poznan, a small but vibrant city in the heart of Europe. The Wielkopolska Province, of which Poznan is the capital, has been one of the strongest regions economically-speaking in Poland ever since the fall of the Iron Curtain, with one of the lowest unemployment rates in the country. The region's main industries are food, chemicals and electromechanics, and GlaxoWellcome, Wrigley and Beiersdorf are just a few of the big international names that have set up operations here.
It's not just the growing economy which is leading to a rise in foreign investments in Poland - and Poznan in particular - but rather a number of other favourable factors are involved. Key determinants are: the availability of skilled labour (Poznan has 23 scientific academies educating around 130,000 students a year), excellent transport links (Poznan is located halfway between Warsaw and Berlin); and the attractiveness of the region as a whole. Poznan is a beautiful city with a picturesque market square, scores of parks and the famous Malta Lake just near by, not to mention a diverse restaurant scene and buoyant nightlife. In short the standard of living which Poznan can offer is very high indeed and company managers won't have any problem persuading their staff to relocate here!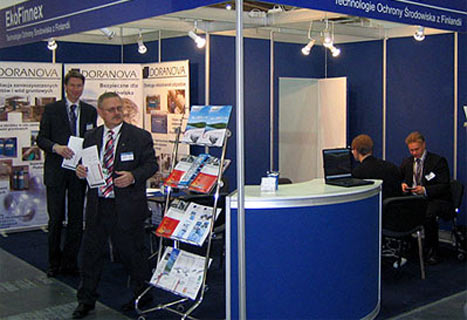 Needless to say that those interested in market entry in Poland should do their homework before allocating a big portion of their budget to a shiny new office or factory. A company like PMR Consulting can help you with market research in Poland, whether you need broad reports on construction, telecommunications and the drug market or you need the very latest figures on online retail sales or construction investments. Their consultants can prepare you a blow by blow guide to investing in Poland tailored to your needs!
Of course not everyone coming to Poznan on business is setting up shop, this is 'The City of Trade Fairs' after all. Many businessmen come to Wielkopolska to attend the many trade fairs, conferences and conventions that take place in Poznan on an annual basis. Trade fairs on everything from angling to advertising take place in the city's many convention centres, the biggest of which is of course the Poznan International Fair Centre. If you're in town for one such exhibition then let Poznan Life help you make the most of your stay. Read up on the finest hotels in Poznan, the swankiest restaurants, hippest bars and best things to do, all with their precise location on our online map. If you don't have much time right now, then why not print off our downloadable PDF guide, to read on the plane over? We hope you enjoy doing business in Poznan!
Comments