Polish Films and Filmmakers
Polish cinema is known worldwide mostly due to a few names: Polanski, Wajda, and Kieslowski. But while these directors are mostly famous for their work outside of Poland, many names have been made within the country, though they tend to be neglected from outside except for a handful of enthusiasts and the Polish diaspora all over the world. But as Polish film festivals are becoming more and more frequent in the U.S. and UK, mostly thanks to the previously-mentioned diaspora, the outside world's curiosity is becoming piqued by the intrigue of Polish cinema.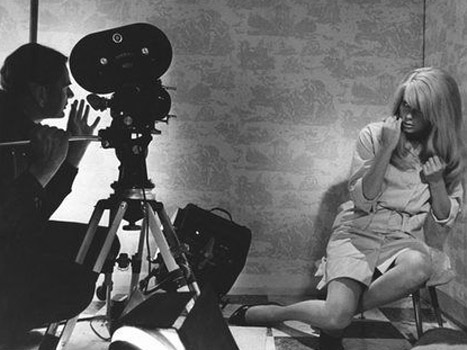 Early Cinema and the Post-War Period
Polish cinema began to make an appearance just as Poland made a re-appearance on Europe's map after the First World War. The interwar period saw few films, and those that were produced were plagued by low budgets as the whole nation struggled with its new independence and financial uncertainties. In bittersweet irony, the most notable films of the Interwar period were Yiddish films, such as Joseph Green's Yidl mitn Fidl (1937) and Michal Waszynski's Der Dibuk (1937), which captured the great energy and liveliness of pre-Holocaust life for Europe's Jews.
After the destruction of the Second World War, Polish cinema was in ruins, and it was up to the new communist government to restore it. Of course, they had their own agenda, and most of the films of the first decade of communist Poland were stuck in the Socialist Realism mold, full of predictable black and white characters and plot lines. It wasn't until 1954, when Poland's most well known director made his debut that things began to get interesting again for Polish cinema.
Major Directors and Films
One year after Stalin's death, but still in the Socrealism period, a young filmmaker name Andrzej Wajda made his debut, A Generation (Pokolenie, 1954), the story of a politically apathetic young man who comes to join the Resistance during World War II. Though it still touched on elements of Socrealism, the film broke the mold with its vivid characters, taut plot and uncanny ability to capture the period. Wajda would continue to push boundaries throughout his career, leaving the Socrealist model completely and making films that favoured Polish heroes like the Home Army. Wajda's most famous film of the era and his third film, Ashes and Diamonds (1958), has Home Army characters at its center, and launched the career of actor Zbigniew Cybulskim, who would become known as "the Polish James Dean" for this simmering performance of unsettled youth. But Wajda's most controversial and important films would come later, namely Man of Marble (Czlowiek z marmaru, 1977) and its sequel, Man of Iron (Czlowiek z zeleza, 1981).
Man of Marble, together with the film Camouflage (Barwy ochronne, 1977) by another Polish filmmaking legend, Krzysztof Zanussi, formally started a movement known as the "cinema of moral concern" ("kino moralnego niepokoju"). The movement's aim was to undertake, in Frank Turaj's words, a "moral examination of modern Polish life and modern Polish history," and would become the most important movement in Polish cinema. While Man of Marble examines the communist worker-hero through the probing and perceptive eyes of a documentary film student, its sequel focuses on the failed Solidarity labour union, including real footage of the events in Gdansk, a significant feat in itself.
While Wajda made his mark as a true Polish director, filming in Poland with Polish actors, Poland's other most well known filmmakers spent as much time (or more) abroad as in Poland, gaining their international fame by being, well, international filmmakers. First among Poland's exiled directors is Roman Polanski, known for his scandals almost as well as for his films (he is still banned from the United States for a statutory rape charge). Polanski, a Polish Jew, was born in Paris as Raimund Liebling and returned to Poland at the age of three a few years before the outbreak of the Second World War. After his mother died in Auschwitz, he was able to escape and was hidden by a Catholic family until the end of the War, when he began to first act and then direct. In 1962 his debut feature, Knife in the Water (Noz w wodzie, 1962) catapulted him to stardom and the cover of Time magazine, and began his exile from Poland and his settlement in the UK, the U.S., and later France. However, it was his American movies like Rosemary's Baby (1968) and Chinatown (1974) that would win him worldwide fame and Oscars, and it seemed like in the process he forgot (or deliberately ignored) his Polish roots until 2002's The Pianist brought him back to his homeland.
Another Polish director widely recognized abroad is Krzysztof Kieslowski, several of whose works involved international productions with French actors. Though he started in the 1950s and made several documentaries and feature films in Poland, his most well-known films are the so-called Three Colours trilogy, or Blue (1993), White (1994), and Red (1994), as well as The Double Life of Veronica (La Double vie de Vronique, 1991), the story of two young women who live parallel lives, one in Poland and the other in France, and told in both languages. His Polish-language masterpiece is actually a ten-part television series loosely based on the Ten Commandments called The Decalogue (Dekalog, 1988). Two feature films were produced out of the project as well, titled A Short Film about Love (Krtki film o milosci, 1988) and A Short Film about Killing (Krtki film o zabijaniu, 1988). The international reception was ecstatic, and although Kieslowski had been known in film circles abroad before, The Decalogue made him a star of world cinema and allowed him to do the Three Colours trilogy.
Though there are many smaller names of Polish cinema, several other filmmakers are somewhat known in world cinema and their films have been released in other languages. Among these is the most famous female Polish filmmaker, Agnieszka Holland. Though she began her career as an actor and appeared in early films by Zanussi and Kieslowski, she began directing films in the late 1970s, and her films are considered key works in the cinema of moral concern, presenting the problems that women faced under communism. Her major films from this time were Fever (Goraczka, 1980) and A Woman Alone (Kobieta samotna, 1981), though her most famous film worldwide is her French-German co-production Europa, Europa (1990), based on the true story of a German Jew who survived the Second World War by joining the Hitler Youth. Also significant is Krzysztof Zanussi, whose Year of the Quiet Sun (Rok spokojnego slonca, 1984) is half in English. Zanussi's other works have been more influential though, at least in Poland, including Camouflage, which is sometimes considered the first film of the cinema of moral concern.
Other key filmmakers who are harder to find in translation are Jerzy Skolimowski, whose career started and ended early with just the film Hands Up! (Rece do gry, 1967) being widely acclaimed; Walerian Borowczyk, who made the films Immoral Tales (Contes immoraux, 1974) and The Beast (La Bte, 1975) in France; Andrzej Zulawski, whose erotic and frightening Possession (1981) won a Best Actress award at Cannes. Other specific films fall more into the category of cult favourites, including Wojciech Has's The Saragossa Manuscript (Rekopis znaleziony w Saragossie, 1965), a trippy mix of cabbalism, the occult, and philosophy, with an experimental score by Krzysztof Penderecki (whose music has been used by Stanley Kubrick and David Lynch). The film was even a favourite of Jerry Garcia and Martin Scorsese, both of whom paid for the film's restoration. Comedy-wise, if you ask any Pole about the film Sexmission (Sexmisja, 1983) you'll get a knowing grin and nudge; the science-fiction cult classic tells the story of two men who wake up after artificial hibernation in a post-nuclear future world composed entirely of women who aren't too keen on the return of the male species.
Holocaust Films
For obvious reasons, a country so deeply affected by the Holocaust would inevitably struggle with the topic for a long time, and it would come to often dominate both its literature and its cinema. One of the world's first Holocaust films came from Wanda Jakubowska, called The Last Stage (Ostatni etap, 1948) and was based on her own experiences in Auschwitz. Andrzej Munk's haunting The Passenger (Pasazerka, 1963) sought to probe the motives and mental processes of the Holocaust's perpetrators. Of course, probably the most famous Holocaust film not made by Steven Spielberg is Polanski's adaptation of Wladyslaw Szpilman's novel The Pianist, in a film of the same name that won both the Palme d'Or at Cannes and the Academy Award for Best Director for Polanski.
Polish Cinema Since 1989
After the fall of communism, Polish cinema suffered the trauma and mixed blessing that struck all the arts: sure, you could say (and film) whatever you wanted now, but no one was going to listen (or watch). And equally tragic, no one was going to give you free money to fulfill your artistic visions. Welcome to capitalism.
But not all was bleak, as many filmmakers survived the transition, particularly the ones who had already gained filming experience in the West. And, though Polish cinema still hasn't reached the level of acclaim and respect it received from the public before 1989, or the worldwide attention Czech cinema has received, some key films and filmmakers stand out from the otherwise trashy Hollywood copies that seem to be coming out of the country these days. Part of the problem has to do with money; since the arts stopped being state-sponsored, film financing in general has been cut back, meaning producers are more likely to go with sure moneymakers (action films, cheap romantic comedies) than more artistic endeavors. Some directors like Kieslowski have bypassed this by working with foreign production companies.
The movies that have succeeded both in Poland and in international festivals have been crime thrillers (often with a black comedic edge) and historical dramas. In comedy, for example, Juliusz Machulski and Marek Koterski have both led the way, with movies like Day of the Wacko (Dzien swira, 2002) and the hilarious Killer (Kiler, 1997), which even managed to spawn a sequel in true Hollywood fashion. Both Wladyslaw Pasikowski and Maciej Slesicki have successfully made violent crime thrillers, such as Sara (1997). Krzysztof Krauze's The Debt (Dlug, 1999) is acknowledged as one of the most accomplished action thrillers.
A revolution in modern Polish cinema began with Jerzy Hoffman's With Fire and Sword (Ogniem i mieczem, 1999), an epic literary adaptation of Nobel Laureate Henryk Sienkowicz's novel of the same name. With ten years of work and a huge budget by Polish standards, the film was extremely successful, both artistically and financially, and proved that Polish cinema could sustain itself post-1989 without losing its integrity. It also led the way for a slew of historical dramas based on literary classics, including Wajda's Pan Tadeusz (1999), Jerzy Kawalerowicz's Quo Vadis (2001) and Gavin Hood's In the Desert and the Wilderness (W pustyni i w puszczy, 2001).
At the moment, Polish cinema is waiting for a new generation of filmmakers to make their mark and steer it into the 21st century. As film students are travelling abroad more and more often, their experiences and observations are sure to become subjects of the new Polish cinema, and replace the previous "cinema of moral concern" with a post-modern search for meaning in an uncertain world.
A suggested guide to the essential films of Polish cinema:
Ashes and Diamonds (1958) - Andrzej Wajda
Knife in the Water (1962) - Roman Polanski
The Passenger (1963) - Andrzej Munk
The Saragossa Manuscript (1965) - Wojciech Has
Hands Up! (1967) - Jerzy Skolimowski
Camouflage (1977) - Krzysztof Zanussi
Man of Marble (1977) - Andrzej Wajda
Man of Iron (1981) - Andrzej Wajda
A Woman Alone (1981) - Agnieszka Holland
Possession (1981) - Andrzej Zulawski
Sexmission (1983) - Juliusz Machulski
No End (1984) - Krzysztof Kieslowski
Year of the Quiet Sun (1984) - Krzysztof Zanussi
H.M. Deserters (1986) - Janusz Majewski
The Decalogue (1988) - Krzysztof Kieslowski
Europa, Europa (1990) - Agnieszka Holland
The Double Life of Veronica (1991) - Krzysztof Kieslowski
Three Colours: Blue (1993) - Krzysztof Kieslowski
Three Colours: Red (1994) - Krzysztof Kieslowski
Three Colours: White (1994) - Krzysztof Kieslowski
Killer (1997) - Juliusz Machulski
With Fire and Sword (1999) - Jerzy Hoffman
Pan Tadeusz (1999) - Andrzej Wajda
The Debt (1999) - Krzysztof Krauze
Quo Vadis (2001) - Jerzy Kawalerowicz
In the Desert and the Wilderness (2001) - Gavin Hood
The Pianist (2002) - Roman Polanski
Though many of these films have been classics since before we were glimmers in our parents' loins, they're still often shown at Warsaw's many cinemas (which are conveniently also listed in our entertainment directory), and occasionally at the several yearly film festivals in Warsaw. To catch some of Poland's up and coming filmmakers, be sure to catch the Warsaw International Film Festival every October!
Comments