Euro 2012 in Poznan
Yes, against all the odds, Poland and Ukraine will be hosting the European Football Championships in 2012! Their joint bid was announced successful by UEFA chief Michel Platini in Cardiff on 18th April 2007, winning out over more favoured bids by Italy and Croatia/Hungary - and causing widespread jubilation throughout the two Eastern Europe countries.
The action will be spread over six cities in Poland: Warsaw, Gdansk, Poznan, Wroclaw, Chorzow and Krakow; and four cities in Ukraine: Kiev, Lviv, Dnipropetrovsk and Donetsk. Kiev's Olympic Stadium, which hosted the football at the 1980 Moscow Olympics, is the proposed venue for the final.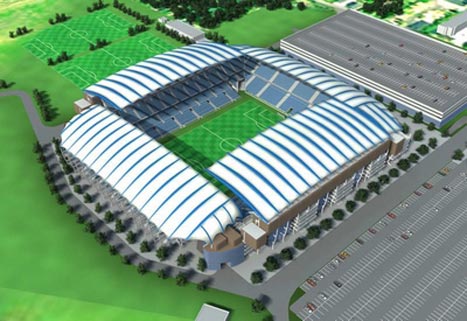 Above: The planned stadium for Poznan, which will be finished in 2010, and will have a capacity of 46.5 thousand and cost 152 million PLN.
Since the announcement that Poznan was picked as one of the cities to host Euro 2012, the city has been making preparations. While the construction of the national stadium in Warsaw won't begin until spring of 2009, at the moment Poznan has the most advanced preparations so far, and the city has begun working on a local stadium already.
Hosting the European Championships will also be a chance to improve the city's infrastructure, as well as transport to Poznan, as thousands of kilometres of railways and highways will be built or modernized between the major match cities. Transport within the city will have to be improved as well, so that visitors can easily travel between the stadium and hotels. New hotels will be built to accommodate the Euro 2012 visitors, and no doubt the event will bring thousands of tourists to the city that might not have otherwise had a chance to discover Poznan's charm.
Comments