Jazz it up - a la Boheme!
The International Jazz Festival in Prague, which takes place every autumn, is much more than your average music event - perhaps because jazz in the Czech Republic is much more than your average music genre. During the dark days of Communism, when Czechoslovakia was locked behind an iron curtain, it was jazz that symbolised artistic and personal freedom in a society that wanted to suppress such bourgeois tendences.
With rock music strictly banned due to it's often subversive nature, jazz was the pacifier that the authorities allowed the people, confident that if lyrics could be seditious in nature surely a musical note couldn't. In a sense they were right, jazz couldn't be openly rebellious. And yet there was always something about jazz - the raw emotion, the lack of structure, the humaneness of the genre - that meant the Jazz Festivals of the 60s and 70s were much more than just a series of concerts. They were amazing paeons of soulful creation in a world that forbade individualism; and, with international acts in attendance, they were also a rare form of contact with the outside world.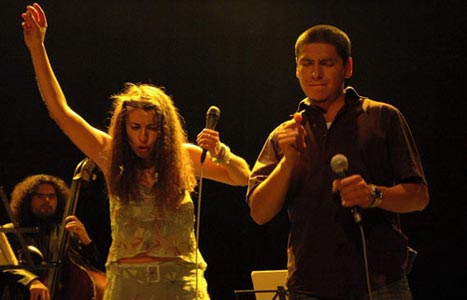 The first Prague International Jazz Festival took place in 1964. The year 2006 will be the festival's 43rd year of exsistence and the 30th edition of the event (which was once heldy biannually). During the course of those thirty festivals many greats have made the journey to Prague to be part of the magic. Mr. Acker Bilk and his Paremount Jazz Band were at the very first event and returned in 1982, Stan Getz Quintet came across the water in 1978 and the likes of B.B. King, Herbie Hancock and David Brubeck have all played in Prague.
International Jazz Festival 2007
So what can jazz fans expect today from the IJF? Well there's an excellent mix of classic sounds that listeners might have heard in jazz's heyday and more modern cuts and experimental forms. In 2006 American Grammy Award winner Sugar Blue and Rhoda Scott were two highlights. In 2007 the biggest stars will include the Rotterdam Ska Jazz Foundation, Pee Wee Ellis, N.O.H.A, and Dee Dee Bridgewater, among many other talented performers. The festival begins on 22nd November and runs unto the 30th November. Find out more at the offical website.
As usual the venues in 2007 will be the Reduta (Narodni 20), as well as Rock Cafe (Narodni 20) next door. Apart from its status as home of the International Jazz Festival, the Reduta also has another claim to fame. It was during Bill Clinton's 1994 tour of Central Europe that the fun-loving president whipped out his sax and dazzled the crowd with a bit of "Summertime" and "Funny Valentine". Right after, Bill invited fellow premiere Vaclav Havel to jam with him and the legendary "Two Presidents" gig ensued... Nice!
Comments