Information
6Info about Moscow & Russia
Moscow is the capital of Russia and is located in the far west of the country on the river Moskva. It has a population of 11,273,400 (as of 2004), although a great number of both permanent and temporary illegal migrants, plus the ongoing merging of suburbs, raise the unofficial population to about 13.5 million people - about one tenth of the entire Russian population.
Already the most populous city in Europe, Moscow continues to grow. This is largely due to its 20% per annum economic growth, which attracts workers (often illegally) from other parts of Russia where the economy has stagnated or is even in decline. An internal passport system making it illegal for non-residents to remain in the city for longer than 90 days is proving ineffective at combatting this trend.
As well as being a thriving economic centre (boasting more billionaires than any other city in the world), Moscow is also a centre of the arts. The city enjoyed a golden age of literature in the 19th century when Puskhin, Chekhov, Gogol, Turgenev, Dostoevsky and Tolstoy all worked here. Today the world-famous Bolshoi Ballet and Opera Company still perform, as well as a number of reputable theatre groups.
Moscow has a number of competitive football teams, including Dynamo, CSKA, Lokomotiv and Spartak, all of whom have played on the European stage. It also hosted the 1980 Olympic Games, which were boycotted by many countries due to the Soviet invasion of Afghanistan. Moscow however lost out to London in its bid for the 2012 Olympics.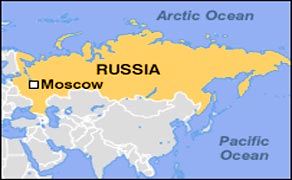 Population: 142 million Capital: Moscow Major language: Russian Major religion: Islam, Christianity Life expectancy: 61 years (men), 73 years (women) Monetary unit: 1 rouble = 100 kopecks Main exports: Oil and oil products, natural gas, wood and wood products, metals, chemicals, weapons and military equipment Average annual income: US $2,610 Internet domain: .ru International dialling code: +7
About Moscow
The Russian Federation is a country that stretches over a vast expanse of Europe and Asia. With an area of 17,075,400 km2 (6,595,600 miles2), it is the largest country in the world, covering almost twice the territory of the next-largest nation, Canada. Despite its size, Russia is relatively sparsely populated, and much of its expanse constitutes of vast tracts of forest, grasslands and tundra. It is only the eighth most-populated country in the world.
The Russian Federation has existed since 1991 when the The Union of Soviet Socialist Republics (USSR)was dissolved after nearly 70 years of power. Russia became the largest of 15 segregated states, but has since struggled to rebuild the power and influence it held as the head of the Soviet Union.
During Soviet times Russia enjoyed the position of one of the world's two great superpowers, owing largely to Stalin's ambitious drive towards industrialisation (at the cost of millions of lives in slave labour) and wealth accumulated after the victory over Germany in the Second World War. Later, under Brezhnev, the USSR continued to prosper as Soviet patriotism saw the Russians competing with the USA in the arms and space races. Perhaps this is why these times are still referred to by many ageing Russian's as a golden age in their history. However, the corruption that plagued the Soviet regime, and the incompatability of communism and consumerism, meant that despite several attempts to restructure and reform, the regime collapsed amidst a number of political wrangles.
It was President Yeltsin that eventually remained victorious, defying several coups and declaring The Communist Party illegal. Russia has since enjoyed an uneasy and politically unstable ride from a Socialist central economy to a Capitalist system - and although many have seen untold wealth, many more - particularly from poorer communities - have seen their living standards decrease.
Today, President Putin has brought increased political and economic stability to Russia. However his government has increased state control of the media, and questions from the international community have been raised about human rights in Russia.
Comments