Russian Brides
Over the last ten years or so the Russian Bride has become a major cultural and economic phenomenon. Type the magic words into Google and you will find the names of literally hundreds of dating agencies appear, all promising to match lonely Western guys with beautiful blushing brides from the former Soviet States. Not only that but the trend is still on the rise - it is estimated that the number of agencies is doubling every year!
For those of us who imagine that our partners will be sourced from more traditional groups - a childhood sweetheart, a colleague from work, or at least some girl we picked up at a bar - the notion of marrying someone on the back of a few letters and one Aeroflot flight seems a little crazy, if not downright dangerous. Nonetheless people on both sides of the equation are queuing up to take part in this heaving foreign exchange programme. Why?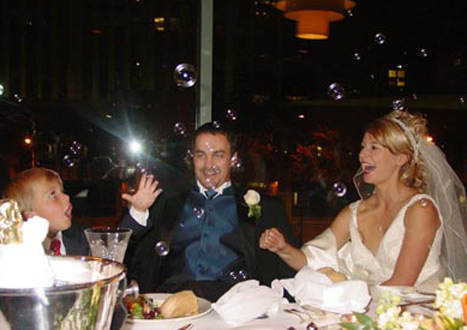 Well, for the (predominantly American) men involved, the benefits are pretty obvious. The land of the free and home of the brave may be famous for its beauty queens and silicone-busted blondes, but it is also the country with the highest rate of obesity in the world and - if our friends across the pond will forgive me for saying so - it is also the land that fashion forgot. Getting a classy girl may not be a problem if you are an all-American high-school jock with a quarterback's physique and ice-white teeth, but if you're an ageing IT guy from Denver with a dubious moustache and a sizeable beer belly, you're unlikely to land yourself a Baywatch body double. Even if you do then you're going to need a team of great lawyers and one watertight prenuptial agreement.
No, unfortunately for these such men, the marital options are bleak. Suddenly a whole host of successful, rich businessmen realise that they are going to have to marry someone just as imperfect as they are - their only recompense being that their partner's huge arse provides a perfect place for resting a beer on. Hang on though, we hear you say - surely these larger-than-life wives, being so far from physical imperfection, will make up for their short-comings by being loving and devoted beyond compare? Actually no. Whereas Russian women are known for their patience and tolerance, American women are more famous for stating their opinions - and not taking any sh*t!
These fundamental differences in the psychology of the women from the USA and the former Soviet Union are easily explained. Whereas the winds of change swept across 60s and 70s America in the form of the Women's Liberation Movement, creating the modern notion of sexual equality, those same winds failed even to ruffle the unyielding folds of the Iron Curtain. It may seem unbelievable to many of us in the West, but in the USSR women are still considered to have a lower social status than men. Their primary roles are still to look good, to support their husband, and to be a good mother. Even though many women study for degrees and work full-time, the concept of an independent, 'Sex In The City' style career woman is quite alien to most Russians. The upshot of all this of course is that those men that look to the East are likely to be rewarded with a wife whose tolerance, indulgence and compassion Western man had all but forgotten.
So plenty of plus points for the ageing American bachelor. However if the demand for Russian Brides is high, then the supply is greater still - thousands upon thousands of women from all over the former Soviet Union are signing up, in the desperate hope of being bestowed with this dubious moniker! Why are these ordinary women so eager to give up their whole life to move abroad and marry someone they barely know?
Actually there are a number of reasons. Cynics of course will say 'money' and there are certainly no shortage of 'scammers' and gold-diggers queuing up to take advantage of gullible Americans (one gentleman has already died in suspicious circumstance after finding his perfect Ukrainian bride!); but the truth of the matter is, whereas Russian women want security for themselves and their family, they don't crave riches.
Passports then, we hear you cry? It's true that many women, especially from the poorer areas of Russia (which is pretty much everywhere outside of the major cities) are desperate to escape Mother Russia. The sad fact is that, despite feeling a immense ties with their homeland, they know that they have little future to speak of. Jobs are scarce and badly paid, and the standard of living is far inferior to all but the poorest countries in the West. Needless to say this has prompted more than a few greencard-and-go scenarios, but these are still the desperate actions of a ruthless minority.
In fact one of the biggest factors that has Russian women signing up in droves to the dating agencies is simple demographics. There are approximately 88 men per 100 women in Russia, and this massive discrepancy creates a number of social issues. Most notably it gives all the relationship power to the men, allowing them to be very picky, and very demanding. The old stereotype of the Russian alcoholic who mistreats, beats, and cheats on their partner is not without its real life examples. The wife on the other hand, because she has little chance of finding another man, is forced to put up with it - especially if they have kids together. A divorcee with children simply can't compete as the next generation of sculpted cheekbones and sultry pouts renders them as a has-been.
Now that we have considered the whole picture in detail it is easy to see why so many women, faced with poor job prospects, poor quality of life, and a lousy husband (or no husband at all), are happy to plunge into the deep end with a foreign man... Or at least sign up with the agencies and live in hope. The truth of the matter is that, despite the odd Bond girl look-a-like (funnily enough the ones you see pictured on the agencies' front page!), most of the so-called 'Russian Brides' are homely-looking divorcees, desperately hoping for a chance to build a better life for themselves and their children abroad.

If you're searching for your own Russian Brides you might want to check out our drinks sections for some suggestions on where to find her... Or if the girls in the capital are proving a hard nut to crack why not take a trip to Saint Petersburg?
Comments