The Old Arbat
The most famous street in Moscow lies to the West of the Kremlin, where its 1.25km span stretches from ploshchad Arbatskaya to ploshchad Smolenskaya. It is one of the oldest roads in the city and was first mentioned as early as 1493, in connection with a fire that started here in the Church of St. Nicholas.
Originally a suburb where traders from the East would arrive with their caravans, in the 18th Century the Arbat became popular with Moscow's intelligentsia and artistic community, who enjoyed frequenting the many cafes and taking strolls along the area's mansion-lined boulevards. Pushkin himself lived here with his wife in house number 53 (the building has since been turned into a museum dedicated to the poet) and Tolstoy resided on the adjoining Kaloshin Lane. In fact Count Fyodor was said to have modelled his famous character Anna Karenina on Maria Gartung - Pushkin's oldest daughter, who also lived nearby.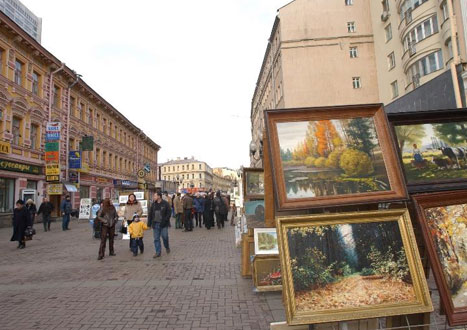 The construction of the modern highway (the Nowy Arbat) in the 1960s relegated the old Arbat from being one of Moscow's key arteries to the role of sleepy back-water. Since it was no longer needed as a transport route, in the 1980s the way was paved for the Arbat to be made a pedestrian street, in which incarnation it has enjoyed a new lease of life as a tourist attraction. Maybe the legendary writers of the past no longer drink their coffee here, but a host of mime artists, soap-box poets, souvenir shops (check out Novikh Russkikh Mir) and art stalls evoke a decidedly bohemian atmosphere that can still inspire. The plentiful cafes and eateries selling delicious food fares from around the globe add a dash of flavour - and the picturesque pastel facades of the houses a splash of colour - to ensure that few tourists leave the Arbat disappointed.
For a decidedly different picture of Moscow walk to the western end of the Arbat to see the imposing towers of the Ministry of Foreign Affairs building. One of Stalin's so called Seven Sisters, it has all the charm with which you associate Soviet Russia!
Comments
Did not go to antique shops at all
Reply
I have vivid memories of shopping here in the summer of 1989 for a special gift for my wife. I worked here as part of a television news crew from Washington, D.C. and we had a rare day off to play "tourists." I purchased a nice object I'll described as an "egg". It is a solid black wooden egg, about 3 inches tall and having gold-leaf under a clear lacquer surface with scenes of nearly ancient Russian folklore. It's stunning and as beautiful as is this wonderful area in Moscow.
Reply
This place is awesome! I want to visit MOther Russia again, a new trend in tourism. A unique place to explore.
Reply
This is good place to visit and you can find russians who can speak english little bit here. other thing i could notice here only i saw smily russian faces and friendly russians. Modern Russia is not more USSR. now they want a carbon copy of America. Stupid, and sad to see what we have read from great russian novels. worst contry i've ever visit so far. will not come again.
Reply
I've been here and i like this place. I think only this place where i met people who wanted to speak English. It's comfortable place to spend the time and buying russian souvenirs are more expensive than izmailovo market, except russian motives t-shirt, they had good quality and the price is not quite expensive
Reply
Fond memories of Arbat street in 1997. Wandering through the antique shops trying to get a estimate on value of a Samovar I had picked up in Ismolova, and packed into a bag. Bananas had been introduced that summer and you could find the peels everywhere. It's probably changed quite a bit since. Hopefully it has maintained some of the old charm. Loved it.
Reply
The first internet-lounge in Russia. Opened in late 2008. The perfect cozy interior, ´softª music from the windows with view to the center of Moscow, children are permitted only when accompanied by parents. In institution-the-art computers, including computers apple, a great collection of games, optical channel, the Internet, wi-fi spot, copy-center. The total area of 600 sq.m., is a bar, cafe, billiards Russian and American pool. internet-lounge ´bibliitekaª - a unique place where adults intelligent people, adding it to your life computer games and electronic communications, can relax from the bustle of business or household issues, talk with people of his circle or look for interesting new acquaintances. Moscow, Novinsky Boulevard, 8, (At the intersection of New Arbata and the Garden Ring) 6 Floor Trade Center ´Lotte Plazaª, Tel.: +7 (495) 648 68 78 www.internet-lounge.ru
Reply
arbat street is in renovation now...the building is still astonishing, but the construction disturb the scenery
Reply