The Old Arbat
The most famous street in Moscow lies to the West of the Kremlin, where its 1.25km span stretches from ploshchad Arbatskaya to ploshchad Smolenskaya. It is one of the oldest roads in the city and was first mentioned as early as 1493, in connection with a fire that started here in the Church of St. Nicholas.
Originally a suburb where traders from the East would arrive with their caravans, in the 18th Century the Arbat became popular with Moscow's intelligentsia and artistic community, who enjoyed frequenting the many cafes and taking strolls along the area's mansion-lined boulevards. Pushkin himself lived here with his wife in house number 53 (the building has since been turned into a museum dedicated to the poet) and Tolstoy resided on the adjoining Kaloshin Lane. In fact Count Fyodor was said to have modelled his famous character Anna Karenina on Maria Gartung - Pushkin's oldest daughter, who also lived nearby.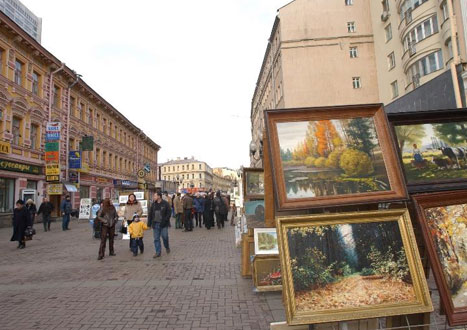 The construction of the modern highway (the Nowy Arbat) in the 1960s relegated the old Arbat from being one of Moscow's key arteries to the role of sleepy back-water. Since it was no longer needed as a transport route, in the 1980s the way was paved for the Arbat to be made a pedestrian street, in which incarnation it has enjoyed a new lease of life as a tourist attraction. Maybe the legendary writers of the past no longer drink their coffee here, but a host of mime artists, soap-box poets, souvenir shops (check out Novikh Russkikh Mir) and art stalls evoke a decidedly bohemian atmosphere that can still inspire. The plentiful cafes and eateries selling delicious food fares from around the globe add a dash of flavour - and the picturesque pastel facades of the houses a splash of colour - to ensure that few tourists leave the Arbat disappointed.
For a decidedly different picture of Moscow walk to the western end of the Arbat to see the imposing towers of the Ministry of Foreign Affairs building. One of Stalin's so called Seven Sisters, it has all the charm with which you associate Soviet Russia!
Comments