Get on the Train!
Perhaps one of the most romantic and awe-inspiring journeys is a trip on the Trans-Siberian Railway, a journey lasting about a week which can take you through almost all of Russia, or even onwards through Mongolia or China. However, such as trip needs much preparation, and not only mental preparation for the fact that you won't be able to take a shower for seven days! First, you must choose the route you would like to take (see below), and decide if you want to make the whole journey in one go, or if you have time to stop at several points along the way. Second, you have to arrange a way to get your tickets, and if you plan on going in the summer, forget about just showing up in Moscow and buying your ticket at the station, as they generally sell out a good month or more in advance. Tickets can be bought 45 days before the train's departure, and we recommend snatching them up as soon as possible. Finally, be sure you have your Russian visa sorted out before you leave, as well as your Mongolian and Chinese visas if needed, as you won't be allowed on the train without a visa valid for the duration of the trip.
There are three ways to go about purchasing tickets for the Trans-Siberian. The first way is to buy the tickets yourself, which is the most difficult option, as it requires being in Moscow or St. Petersburg a few months before your journey (or having a friend there) and excellent Russian language skills, but it is the cheapest way as you get the tickets at cost. Another option is ordering your tickets through a Russian travel agency, many of which have their own websites, though while the commission rates are pretty low, so is the customer service at times. The most expensive but hassle-free way to book your tickets would be through a Western travel agency.
When buying your train tickets, you'll want to specify which class you want. There are three different classes on most of the trains; first class, or spalny wagon, has two beds in a cabin and provides the most privacy at the highest cost. Second class, or kupe, is the same as first but with four beds in a cabin, and is about half the price. Third class or platskartny is an open train with beds that fold to make seats in the daytime. Most of the time Westerners will occupy the majority of first class beds, while second class tends to be a good mix of Westerners, Russians, and Chinese (if the train is going to China). Third class is a bit rough for those making the week-long Trans-Siberian journey, but is quite alright for a night or two if your Russian is decent.
Once you have your tickets booked and your Russian visa taken care of, you'll want to buy the correct provisions for the journey, depending on what time of the year you go. Summer is the most popular time to go, and that's when you'll meet the most Westerners on the trains, but it's also the hardest time to get tickets, and since you can't open the windows on the trains, the heat inside can get pretty brutal. Despite stereotypes, Siberia gets quite hot in the short Russian summer, and the few hours of night-time darkness might be a problem for light sleepers. However, it means that if you want to spend time in Moscow or St. Petersburg the weather will be nice enough to walk around without a heavy jacket. Generally the best times to go are early autumn or late spring, when the weather is still tolerable if not downright nice, and when there are fewer tourists about. However, few sights can compare to the beauty of the Siberian plain covered in a blanket of untouched snow. And, since the train compartments are kept nice and warm, you don't have to worry about being cold until you step off at your destination.
In general, however, there are a few items you won't want to be without on the train no matter what time of year it is. First, comfortable clothes are key, including slippers or flip-flops you can wear around the train so you're not stuck in heavy shoes. Also, since every train wagon has its own hot water boiler on board, instant coffee and teas, as well as instant noodle soups, are a good way to save money on food and drink during your trip. If you do get sick of the same fake chicken-flavoured ramen noodles, there's always the option of the restaurant car, or better yet, the platform vendors. The main Trans-Siberian trains will stop several times a day, from between five to thirty minutes or so, and you can step out on the platform, stretch your legs, and buy everything from fresh fruit and vegetables to beer to fried chicken or fish from the babushkas on the platforms, for much cheaper than the restaurant car or shops. Just be sure you have a plate, bowl (for soup) and mug or two, as well as a handy pocket knife or silverware!
Though there are no showers on the train, you can always improvise in the bathroom as long as you bring your own soap and shampoo/conditioner. While sheets and a basic towel are provided for you with your bed, you might want to have your own towel as well. And, if you're so inclined, a bottle of vodka or two for the journey will never go wasted, and is the easiest way to make friends! Decks of cards or a chess set can also make you quite popular, though make sure you have plenty to read as well for when you're craving some alone time. Finally, before you get on the train make sure you have enough cash to last you the whole journey, as even if there are any ATMs at the stations on the way, it's unlikely you'll have time to make use of them. If you're crossing the border to China or Mongolia, the train spends about five to ten hours at the border crossing, so you'll have plenty of time to exchange your currency then.
Right: Some views from the Trans-Siberian, including Lake Baikal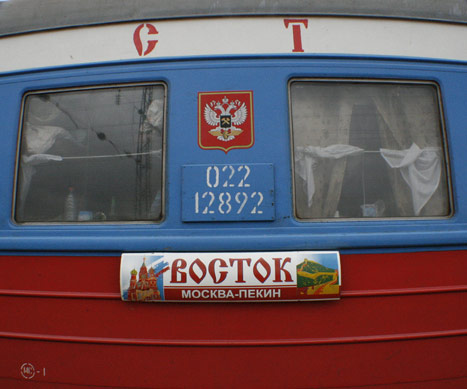 Above: The Vostok train, also called the #20 or the Trans-Manchurian, goes from Moscow to Beijing

Routes

Trans-Siberian

The most legendary route by far is the Trans-Siberian, which goes 9,258 km or 6,152 miles from Moscow to Vladivostok and takes almost eight days. The "Rossiya" ("Russia") train 2 goes from Moscow to Vladivosktok, while train 1 goes the other way. The train stays within Russia the whole time, so you'll only need a Russian visa, but as with the other trains, you'll pass by Lake Baikal, which will be visible from the train for a good half-day.
Trans-Mongolian

The most popular route with tourists is the Trans-Mongolian, train 4 to Beijing or train 3 to Moscow, both going through Ulan Bator in Mongolia. This is also the fastest route to Beijing, covering 7,621 km or 4,735 miles in 6 days. You'll pass by Lake Baikal, the Gobi Desert, and enter China for about a day. An added bonus is that this is the only train with deluxe first class compartments, which feature a shared shower.
Trans-Manchurian

The Trans-Manchurian train, or "Vostok" ("East") train 20 to Beijing or train 19 back to Moscow, covers 8,986km or 5,623 miles in about six and a half days. It bypasses Mongolia completely, entering China via Zabajkalsk on the Russian side and Manzhouli on the Chinese side, and also passes by Lake Baikal, though due to a change in the route the Great Wall is no longer visible from the train.

Other Routes

If you book a ticket on one of the above trains, you're booking a ticket for the whole journey unless you specify otherwise when booking, and you won't be able to stop off along the way as you've reserved a bed in that particular train only. You can book a ticket for part of the journey on one train and continue your journey on another, but keep in mind that the above trains only go once a week. However, there are other trains that go along the route, such as the "Baikal" train 10 that goes every second day from Moscow to Irkutsk, and other trains that go between Irkutsk and Beijing or Ulan Bator every few days. While a single Trans-Siberian train is the way to get across Russia or into China the quickest, if you have time to spare, we highly recommend stopping along the way and seeing some of the beautiful Siberian cities and landmarks Russia has to offer!
Comments