1980 Moscow Olympic Games
The 1980 Moscow Olympics are perhaps most famous for the US-led boycott that saw only 80 out of 147 nations compete, the lowest number since the 1956 Melbourne Games. The boycott was made in protest of the Soviet invasion of Afghanistan the year before, one of the many conflicts that took place as the Americans and Russians battled by proxy during the Cold War years. Allies such as Britain and France also condemned the invasion but allowed their athletes to compete nonetheless.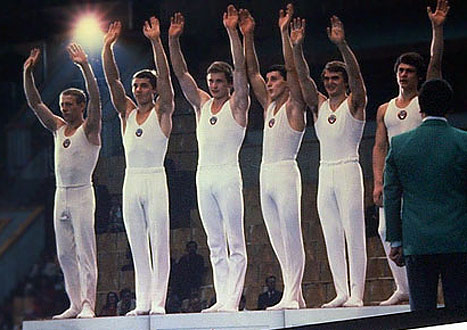 The games turned out to be a tremendous showcase for the Soviet athletes who, with the help of their home soil and partisan crowd, raked in a staggering 195 medals, 80 of which glittered gold. East Germany came second overall, hauling in 126, and Bulgaria were a distant third with 41. Thirty-six World Records and seventy-nine Olympic Records were set during the competition.
Highlights of the Games included the virtuoso gymnastic displays of Alexsandr Dityatin, (USSR) who won eight medals, including gold in the team events, the individual event and the rings event. He also won silver medals in the vault, parallel bars, fixed bar and pommel horse, and the bronze medal in the floor exercises.
Another Soviet star was Vladimir Salnikov, who won three gold medals, in the 400m freestyle, 4200m relay and 1,500m. Eight years later, he made an extraordinary comeback by winning the 1,500m again!
Cuban super-heavyweight, Teofilo Stevenson, became the first boxer to win the same division three times, and Britains Steve Ovett and Sebastian Coe went head-to-head in the 800m and 1500m in one of the best track and field rivalries of all time. Ovett won the gold in the 800m and Lord Sebastian Coe (Chairman of London's successful 2012 Olympic bid) stormed to victory in the 1500m.
1980 was also the year Duncan Goodhew (100m breaststroke) and Daley Thompson (decathlon) won gold for Britain.
Worthy of note is that Merlene Ottey, the great Jamaican and latterly Slovenian sprinter (Ottey now lives in Ljubljana), won the first medal of her Olympic career at the Moscow 1980 Games - a bronze in the 200m. Amazingly Ottey competed in both the 100m and 200m in Athens 2004, at the ripe old age of 44, reaching the semi-finals in each.
Comments