Moscow's Notorious Nightlife
As you might expect in a city of over 12,000,000 people Moscow has an amazing array of nightlife options and a scene for everyone - be you a jazz aficionado, a hardcore clubber, or just a plain old alcoholic. In fact it's difficult to generalise about the nightlife scene here, precisely because of its diversity, but there are things we can mention that are typical Moscow traits...
One thing that newcomers to the city will quickly notice is that a bar or nightclub is rarely just that. Every drinking venue in Moscow doubles up a restaurant and a very high proportion triple up (if one can do such a thing) as a bowling alley, billiards club, casino, concert venue or even book shop! Perhaps it's because Moscow is such a vast metropolis, and taxis are so expensive, that bar and club owners want to provide their customers with a 'one-stop-shop' for nightlife entertainment - rather than send them out into the, often bitter, cold night for a bite to eat!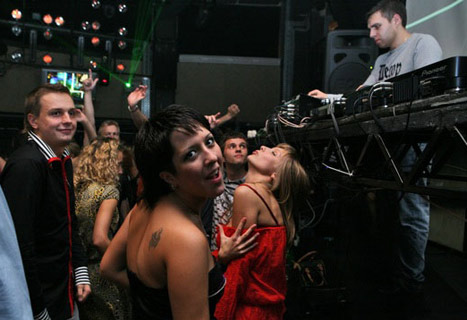 So in other words Moscow isn't the best city in the world for bar-crawling, especially bearing in mind that these multi-purpose venues often charge a cover, but rather it's best to choose your spot for the night and stick with it. Naturally then there's a little extra pressure to make the right choice... And that's where we come in! Read on for our top nightlife recommendations.
Well first up in Propaganda, a stalwart of the Moscow nightlife scene if ever there was one! A good-looking yet friendly crowd of local students and foreign tourists reliably pack out this bar-cum-club, and a night of drinks and dancing here rarely disappoints. If however you want a more full on club experience, then Fabrique is the place to head. No relation to Fabric in London, Fabrique is more glamorous, although perhaps slightly less fun that Propaganda, with a decent programme of foreign DJs. Then of course there's Mio, where the cool kids like to cut loose!
If you're more wired towards alternative nights out and live music, than 130 BPM, then fear not. Mother Moscow does not neglect any of her nightlife children... B2 is a veritable palace of fun, with a floor dedicated to cutting edge live acts of every variety, whilst the cult favourite - The Chinese Pilot - is not to be missed by anyone who likes to take a walk on the wild side.
The scope for listening to live jazz in Moscow isn't narrow either. Choose between homely authentic jazz dens like Forte, or go upmarket and check out super-suave joints such as Le Club. Real jazz lovers won't be disappointed with either.
Of course Moscow being the city of sin that it is, there are some great places to hang out, flash your cash and see how far you get with the rather sultry members of the opposite sex around here. A word of warning - if it seems to be too good to be true, then there's probably a price tag attached. And it's unlikely to be a small one. Bars like Piramida and Nightflight occupy prime spaces near Red Square and are notorious meeting places for rich businessmen and very naughty girls! Of course you could remove the ambiguity and head straight for Dolls, one of the classiest strip joints in the city. And if you're really feeling like a high-roller, break out the Bentley (or better still the Bugatti Veyron) and head for Premier Lounge or Soho Rooms.
Finally no guide to Moscow's nightlife is complete without paying lip service at least to its most notorious venue. The Hungry Duck has seen some very raucous action in it's time, and although it might not be quite the no-holds-barred haven of hedonism it once was, there's still plenty of life in the old bird yet.
Right, if you still haven't found what you're looking for we can only suggest that you have a thorough root around in our pubs and clubs directory. As well as our humble takes on the venues in question you'll find the opportunity to read public opinions and place your own reviews - who said that Russia isn't a democratic country?
Comments