Milan Kundera - Czech's legendary writer
The Czech Republic has its share of controversial writers (not to mention filmmakers - Hrabal, Kafka, and Milan Kundera, whose anti-Party stance tended to get him in trouble with the authorities, and his trouble with the ladies tended to get him labeled as a misogynist (hey, it worked for Hemmingway…). Kundera was an extremely private person and guarded his personal life, which he said was "nobody's business." Influenced by Czech structuralism, he thought that literary texts should be perceived on their own merits, without the interference of factors outside the book, like the author's personal life. Of course, it could be argued that it is impossible to have an objective biography, especially with a writer as dynamic as Kundera.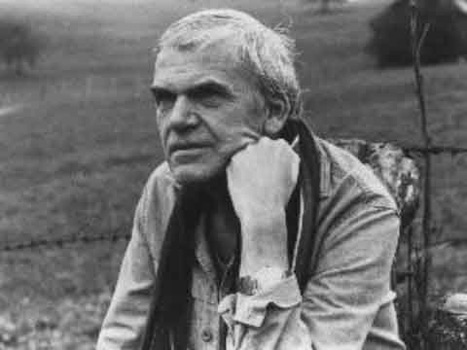 Kundera was born on 1 April 1929 in Brno, Czechoslovakia. His father was a Czech musicologist and pianist, and Kundera was taught music from a young age; later, musical themes would appear in most of his novels. He completed secondary school in Brno in 1948, then studied literature and aesthetics but soon switched to the Film Academy in Prague, which he graduated in 1952; that year, he was first appointed as a lecturer in world literature at the Film Academy.
Kundera tended to have a complicated relationship with the Communist Party. He belonged to group of young Czechs who didn't remember pre-war Czechoslovakia, and were mostly influenced by WWII and the German occupation, which propelled them towards Marxism and Party membership. He joined the Czechoslovak Communist Party in 1948, but then was expelled for "anti-party activities" in 1950, an event that would greatly influence him and later appeared in his thinly-veiled autobiographical novel The Joke; he re-joined in 1956 and was re-expelled in 1970. Afterwards, he was also expelled from the University, lived among workmen, played the trumpet in a jazz band and wrote poetry. He eventually became disillusioned with the communist system, and in a conference in 1967 called for freedom of writers, stressing the importance of preserving a separate Czech identity, which could only be done if Czech literature and culture are allowed to develop in complete freedom. Optimistic, no?
Kundera's first book came out in 1953 (Man, a Wide Garden - a collection of poetry); his poetry displayed a critique of "socialist realism," though still from a Marxist point of view. He tended to reject political propaganda as a theme and instead stressed the importance of natural, authentic human experience. Later, he began to write plays that were actually staged, in an attempt to humanize communism from within its own framework. Kundera eventually came to disown the first 30 years of his life, and the first thing he wrote of importance to him is the first story in the short story collection Laughable Loves, when his "life of a writer began."
After the Prague Spring in 1968, Kundera was dismissed from his teaching post at the Prague Film Academy, and his books were banned and withdrawn from bookshops and libraries. Paradoxically, after that he experienced the feeling of total freedom in writing, because he knew no censor would be reading his books. Thus in 1975 he emigrated to France with his wife, where he taught at the University of Rennes, moved to Paris in 1978, where he completed his masterpiece, The Unbearable Lightness of Being in 1982, which won him international recognition.
In The Unbearable Lightness of Being, Kundera presents the lack of values as lightness; necessity, weight, and value are three concepts inextricably bound: only necessity is heavy, and only what is heavy has value. Kundera's critique of human relationships is interlaced with his critique of the communist system, which obviously made him quite unpopular with the authorities at the time (luckily he was hiding away in France). Though largely philosophical and inevitably influenced by Kundera's surroundings and experiences in Prague and with the Czechoslovak Communist Party, Kundera's novels remain popular because they elevate the specific contexts and characters to the universal; the problems faced by characters in 1960s-70s Czechoslovakia are not really that different from the problems faced by us today. In fact, it can be argued that Kundera's novels are driven by exactly what drives most people - inter-human relationships, addictions, and sex.
Since the fall of communism, Kundera has adopted France as his home and rarely goes back to the Czech Republic, even switching to writing in French in 1995. Though works can be philosophical, Kundera himself is not a proponent of any specific school of thinking.
Comments