Warsaw Poland - A Survivor's Guide!
Warsaw - Poland's dynamic capital city, is a captivating place both to travel to and live in. With Poland's accession to the European Union in 2004, there has been a slow but steady increase in foreigners and tourists alike looking for (and often finding) something truly special in the city. Warsaw Life is the city's leading English-language portal for Warsaw, with over one thousand pages of useful information about everything in the city, from cosy cafes, hip bars and fancy restaurants through to reviews and photos of the best Warsaw hotels and apartments if you need help in choosing or booking your accommodation. Thanks to our IT whizzkids we can even show you the exact location of all the above on our fantastic online Warsaw map!

As well as presenting you all of Warsaw's hottest hangouts (and their whereabouts), we endeavour to keep our readers' fingers firmly on the city's pulse, with the latest breaking news, from Warsaw and Poland, from the latest in Polish politics to news from the world of culture, an up-to-the-minute calendar of events with listings of annual events, exhibitions, parties and concerts, and the latest tricks that Mother Nature is pulling on our weather page. We also provide you the chance to talk to Warsaw residents and ask them tricky questions on our forum.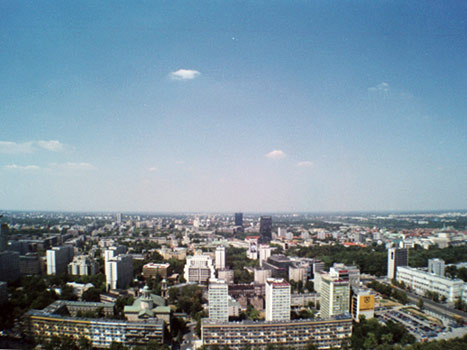 Of course tourists arriving in Warsaw Poland for the first time will want to explore the many legendary attractions this capital has to offer, and we've prepared feature length articles on all the city's major glories. Since most of Warsaw was destroyed at the end of the Second World War, you won't find several hundred year old buildings like in Krakow, but the Old Town of Warsaw was rebuilt almost exactly as it had been, including the rebuilt Royal Castle. After experiencing the (relatively) old, experience the new, with the bustling skyscraper-filled Marshal Street and Solidarity Avenue. For a bit of green among the concrete, one could get lost in the royal Lazienki Park for hours. And if you want to get away from the hustle and bustle of the metropolis, further afield you'll find the beautiful Wilanow Palace, home to the inspiring Wilanow Poster Museum and more. If you want we can also help arrange any number of tours to the above - and beyond!
Here at Warsaw Life we've aimed to create a website that is easy-to-use, at times irreverent, but always accurate, and we always welcome your comments and suggestions. Just contact us and let us know how we can improve - or even just an encouraging word if you have found the site useful. Many already have, and we appreciate their comments.
That's pretty much it from Warsaw, Poland's dynamic capital - we hope this site helps you get as much pleasure from the city as we have! Don't forget to print your downloadable PDF guide to Warsaw before you set off, and to look out for our bright purple printed maps when you get here... Meanwhile check out the links on the left, top, and right hand side of the page for everything you could possibly need to know about Warsaw and life in Poland - and if you can't find anything just give us a shout.
Best regards from the Warsaw Life team, from the heart of Warsaw Poland!
Comments
Warsaw is a truly remarkable place that you can fall in love with! But if you dont have much time dont resign from sightseeing - we can spend an intense and full of experience day. Let the capital of Poland sink deep in your memory!
Reply
Warsaw is in fact incredible and beautiful, and there are so many interesting places there! I love how many great places are there and you can never get bored. My number one place in Warsaw is definitely the Bubbles Bar in the Old Town - delicious, fresh food and huge choice of fantastic champagnes.
Reply
A city that is getting better year by year. The positive changes since I fist came here in '94 are incredible. Joining the European Union, The European Football Championship in 2012, etc etc - Warsaw is no longer a grey metropolis - enjoy it !
Reply
Poland is beautiful! It is not all farmers contrary to what people think. Of course, the country side is amazing however the cities are very much developed. Downtown areas of most major cities are very historical, much like Paris. It is an amazing place spend a few weeks of your summer at. (:
Reply
i would like to go the capital of Poland Warsaw.i have some one very special in there. so wait for me Poland.....i will be there..........
Reply
Being one of the firm believers that the United States Government is absolutely horrendous, Poland is definitely the place to get away!
Reply
went to poland in may 2009 on a training programme with youth in the community. we went to the notorious auscwich concentration camp. poland is a beautiful country and the people are very friendly. i would definately recommend it as a place to visit
Reply
I would love to go to Poland as my Father was born there. Hopefully one day
Reply
dzien dobry:) kocham polske;im been in warsowa & lodz in (1990)and still rememberthis wenderful country!hope to visited again!!!!my dream still... salam
Reply
im gonna go there in 2010 with my skool :D cant wait
Reply
i like to visit poland especially warsaw coz i know that people there are friendly???.... and also i miss my frend there...
Reply