The Buzz of Modern Warsaw
For many travellers, the area around Marshal Street will provide the first taste of this venerable city. This is where the main train station is situated, and the commercial district of Warsaw fans out between here and Solidarity Avenue to the north.
However, perhaps a first gulp would be a more appropriate expression than a first taste. With the towering exception of Venice (which provides the traveller with the visual equivalent of being handed a flute of champagne and a smoked salmon vol-au-vent) it is fair to say that the majority of European cities tend to engender a negative first impression if one is arriving by train. And Warsaw is no exception. This is more a 'there's your tomato in the face, now get on with your day' type welcome. Indeed many Varsovians hail Central Station as there number one love to hate destination.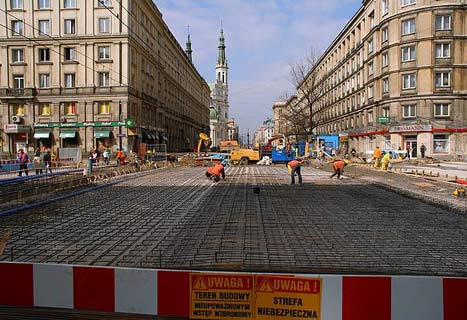 But of course, unless you are experiencing train delays or writing a paper on Soviet train architecture during the 1970's you are not obliged to stay at this eminently uncharming place.
However, one building that would make a a very fascinating subject for a study of socialist realist architecture is Joseph Stalin's colossal Palace of Culture. It is one of the first major landmarks that strikes you on on leaving the station and a worthy competitor for most loathed monument in the capital. It has been a whirlwind of controversy since its inception in 1952.
Whilst much of the area was not rebuilt to resemble the character of pre-war Warsaw, there are nevertheless echoes that hark back to that era. Marshal Street, which was one of the grandest streets of the capital, remains a thriving thoroughfare. It still has several fine buildings, particularly at the eastern end. On many of the streets leading off it there are some diverting places to be discovered, such as the old flagship Wedel patisserie on Szpitalna, whilst the famous Jablkowski brothers store has recently been brought back to life on Bracka.
Comments
The lower end of Marshal Street is amazing with its communist architecture and communist statues/carvings in the walls of the buildings. Also it is worth going to see the Russian war memorial that is not so far away.
Reply