The Royal Castle
The pride and joy of Warsaw's Old Town is the Royal Castle and its surrounding square, "Plac Zamkowy," in the local tongue. As all of its fellow Old Town (re)constructions, the Castle stands as a testament to the city's phoenix-like resilience. In fact, this monument was so dutifully recreated, that its new facade garnered the privilege of being included on the UNESCO list.
An absolute must, when visiting the castle, are the Royal Apartments and State Rooms. These make for a good trip in their own right. However, couple that with some world-class exhibitions and you've got yourself some solid weekend plans. Here you'll find a few top-notch regular exhibitions as well as one-off presentations of the highest calibre. Be sure to check our events calendar for special concerts at the castle.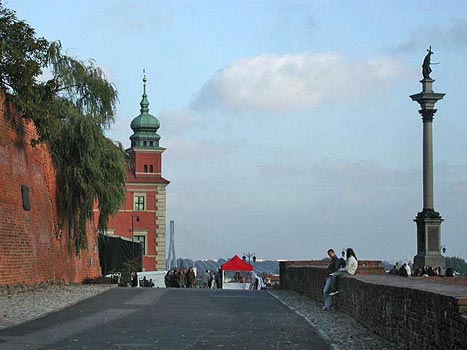 You cannot get anywhere near the Royal Castle without noticing the Sigismond Column (Kolumna Zygmunta). Built in 1644 to commemorate Kind Sigismond III Vasa, this impressive structure honours the ruler who in 1596 moved the capital from Krakow to Warsaw (a day which lives in infamy, in the minds of Krakovians, at least...).
Last but not least, this part of the Old Town deserves a mention for the wonderful views which can be seen from its rim. From here, you've got a straight shot down Krakowskie Przedmiescie or across the Vistula River (Wisla) for a nice view of Praga and the Swietokrzyski Bridge.
Comments