Solidarity Avenue - Where Old and New Collide
After wandering the lanes of the Old Town, the area around Solidarity Avenue, (just west of the Castle) thrusts you into Warsaw at a dash. Throughout much of the nineteenth century this was the commercial and cultural hub of the city, and today many powerful firms and banks have set up shop here. There is a lot of modern development, but pre-war buildings were still being reconstructed here even in recent years. However, behind the facades of former noble palaces you are now more likely to find an international business firm than a moustachioed count enjoying his morning tea.
Senatorska street, which runs west from Castle Square, has some interesting buildings along the way. At its start you will find the elegant Borch Palace, which has been the seat of the Primate of Poland since 1843. The Cardinal remains a powerful figure in this resoundingly Catholic country.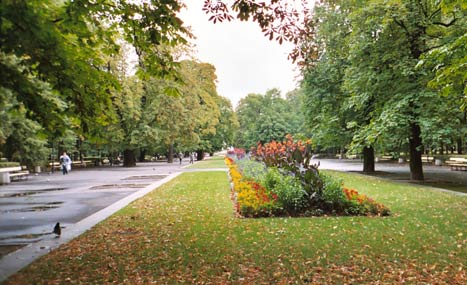 The appropriately named Grand Theatre is another major building in the area that has been returned to its former glory. It was assiduously reconstructed after war-time damage. The square it stands on, Plac Teatralny, was the heart of fashionable Warsaw until 1939, boasting a panoply of shops and restaurants. It retains a commercial character but the emphasis has swung towards banking and big business.
On the other side of Plac Teatralny, continuing along Senatorska street, lies the so-called Blue Palace. The somewhat unprepossessing facade belies a rich history. Before the war it was owned by Count Jan Zamoyski (1912-2002), one of the last grandees of old Warsaw. A young pianist named Frederic Chopin played his first concert here in 1812.
At the end of Senatorska you will arrive at the now radically altered Plac Bankowy. The rebuilt Ratusz (Town Hall) still stands proudly amidst a number of new developments.
Away from the hubbub of the commercial district you can go for a stroll through the Krasinski and Saxon gardens. The two parks mirror each other on either side of Solidarnosci. During the eighteenth century the latter provided the setting for masked balls. These dances enchanted visitors from abroad. Unusually for Europe at that time, all ranks of society mingled at these occasions, which were a popular part of Warsaw life.
Comments