Higher Education...
The University of Warsaw
The most prestigious University in Poland is the University of Warsaw (though Krakovians will fight you to the death to defend their beloved UJ's honour). Founded in 1816, the University may be young by European standards, but its existence arose out of necessity; with Poland partitioned by three empires, Warsaw was separated from the academic centre of Poland, Krakow, and needed its own academic institution to match that of the Jagiellonian University of Krakow. During the short-lived Duchy of Warsaw, the School of Law and the Medical School were first established. After Warsaw came under the Russian Empire's yoke again, Czar Alexander I permitted the Polish authorities to create a university in 1816, consisting of five faculties: Law and Administration, Medicine, Philosophy, Theology and Art and Humanities. The University quickly became the premier academic institution in Russian Poland, though it was closed and reopened several times by the Russian authorities, as the faculty and students tended to take part in uprisings. The University remained largely in foreign hands and limited in its activities until Poland gained its independence after the First World War, and the University was completely restructured into a modern Polish academic institution.
By the 1930s, Warsaw University was the largest university in Poland, and its level of education had reached a western European level. During the Second World War, the Nazi authorities closed all Polish institutions of higher education. Despite this ban, underground education continued on an incredible scale, and by 1944 there were more than 300 lecturers and 3,500 students attending the "Secret Warsaw University." Unfortunately, the Warsaw Uprising resulted not only in the physical destruction of the University, but in the loss of most of the faculty and students. After the end of the War, the University was reorganized once again, this time with the "help" of Soviet authorities. In December 1945 lectures were resumed in the ruins of the campus and the buildings were gradually rebuilt.
Education in Poland during communism was similar to education in most of the other Soviet Bloc countries; heavy censorship, arrests by secret police, and general weariness of students from the authorities was the norm, especially before 1956. At the same time, universities were most often the centres of protests and actions of defiance. In 1968, outbreaks of student demonstrations in Warsaw were brutally crushed by the militia and groups of workers, resulting in many expulsions, firings, and exile for some.
Since 1989, Warsaw University has remained not only the largest university in the country, but a leading academic institution in Europe. The main part of the campus can be found on the Krakowskie Przedmiescie street, a stone's throw from the Royal Castle and the Old Town. If you walk through the historic campus towards the Vistula, you're bound to run into the brand new Warsaw University Library, a stunning building with a gorgeous roof-top botanical garden ...and the books are pretty too!
Today, the University consists of 18 faculties, 16 libraries, 126 total buildings (and growing yearly), as well as several other units and institutions, and awards Licencjats (the equivalent of a Bachelor's) and Master's degrees, and Ph.D.s as well as professorships.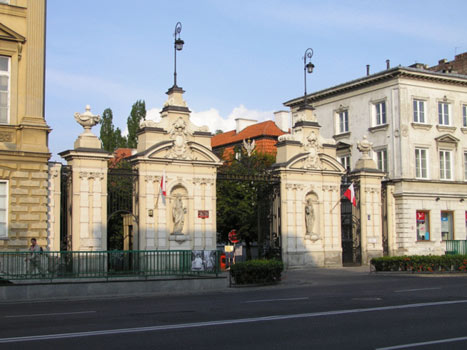 Other Universities in Warsaw
In addition to Warsaw University, several other prestigious universities call the city home:
Cardinal Stefan Wyszynski University: website
Academy of National Defense: website
Warsaw School of Economics: website
Warsaw University of Life Science: website
Warsaw University of Technology (Politechnika Warszawska): website
English-Language Studies in Warsaw
Warsaw would seem like the ideal city to get your Master's in: tuition is far less than in, say, the U.S. (not to mention the cost of living while you're a student), the student atmosphere is immense and fantastic, and the nightlife will definitely compete with your precious studying time. Add a bunch of first-rate institutions in the city and why would you want to study anywhere else? Oh right - Polish. But fear not, even if your Polish language skills are not up to par with a 3rd grader, much less a university student, many Warsaw universities offer classes and even whole graduate and postgraduate programmes in English, French, or German. Several Warsaw universities also cooperate with Erasmus and Socrates exchange programmes all over Europe.
Warsaw University offers several courses in English, including:
Degree programmes:
o American Studies
o Executive MBA
o International Business Program
o International MBA Program
o M.A. Program in International Economics
o M.A. Program in European Finance and Banking
o M.A. Program in Development Economics
o M.A. Program in International Relations
o M.A. Program in Political Science
o M.A. Program in European Studies
o 5-year M.A. Psychology Program
And non-degree programmes:
o School of Polish Law
o Promoting Poland
o Polish Studies in English
o Warsaw Program for Jewish Studies
In addition, the College of Europe, founded in 1949, is an independent university institute of postgraduate European studies with campuses in Bruges, Belgium and Natolin (Warsaw). Courses are taught in English and French: website
The Warsaw School of Economics (SGH) offers Master's studies in International Business: website
The Warsaw University of Technology offers many courses in English, with more details on their website. In addition, the Warsaw University of Technology's Business School offers an MBA programme in English: website
Be sure to check back here often, because as Warsaw becomes more and more an international city, new programmes will be offered in English to draw an array of international and exchange students to our lively city!
Comments