Warsaw Nightlife
Stand aside pretenders! Many cities lay claim to the best parties in Poland, but only Warsaw's nightlife credentials bear up to serious examination. Krakow may boast more bars per square metre than anywhere else on the planet (or so Krakovians keep telling us!) and Poznan is often cited as the home of electronic music in Poland - whilst the boom town of Wroclaw isn't shy of a great venue or two either; but if you're looking for all-night parties, beautiful people, international DJs, fantastic venues and generally plenty of drugs, sex and rock'n'roll then there's only one place to start your search. In Poland's vibrant, cosmopolitan and fast-paced capital.
Of course one man's roisterous rave is another man's dud disco, so it's worth doing your research before you pack your red paint and jump aboard the next easyJet flight. However since Warsaw boasts every type of entertainment from boho bars and louche lounges to meatmarket clubs and hands-in-the-air techno joints, a little knowledge is often the only key needed to unlock her best treasures (…notwithstanding a decent dress sense to make it past the decidedly picky bouncers!). We'll give you some ideas in each nightlife category below, although for a full run-down check out our bars and clubs directory where you'll find blow-by-blow accounts of what Warsaw has to offer - including reviews from that all important critic, Joe Public.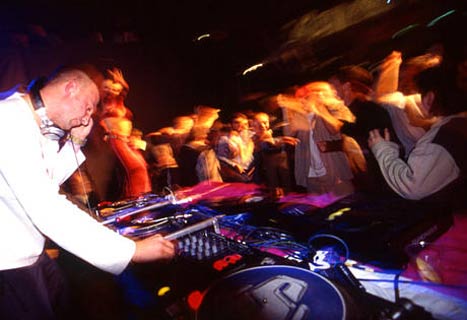 Most sensible people would agree that the prelude to any good night clubbing out starts at a bar. The chance to listen to ear-splitting hardcore trance whilst being jostled by bare-chested meatheads and spaced-out supermodels is never so appealing when sober. There are of course many who would say that it's not that appealing when drunk, in which case the bar takes on an added import as the sole focus of your night. But whether you're dropping by simply for the sake of oiling up, or because you intend to make yourself part of the furniture, we can strongly recommend you checking out the likes of Mono Bar, Paparazzi, Lemon Cafe and Sheesha when in Warsaw.
Mono Bar is on Mazowiecka along with loads of other bars and clubs, including Rich & Pretty, Zoo, Enclawa and Paparazzi. Mono Bar's core sound is 70's and 80's and they also have jam sessions and concerts. Lemon Cafe meanwhile is a bit more laid-back and can be low-key or loud depending on the crowd, whilst Paparazzi is reliably packed with girls fresh from the casting couch of the latest Bond movie. Finally Sheesha is a great place to explore Warsaw, Arabian-nights-style… Hookahs, bellydancers and more provide for many an Oriental adventure. And of course if all you want from your nightlife is a good old pint of the black stuff, Jimmy Bradley's is a superior venue of its kind.
Bars are all very well and good but when it comes to real nightlife adventure - or should we say misadventure - the clubs are where it's at. Warsaw really comes into it's own when it comes to nightclubs, and the excitement and pace of life in the big city is reflected in its nocturnal underworld. Glamour, glitz and sleaze seem to infiltrate venues in equal measure and whereas prices are considerably higher than in the rest of Poland they are still considerably cheaper than the likes of London and Moscow - and, in our well-travelled opinion, many are just as good.
The big names on the scene (for those who prefer the integrity of good dance music to the common denominator of mainstream chart rubbish) are Piekarnia, Opera, Platinium, Balsam, Klubo Kawiarnia, Enclawa, Rich & Pretty and The Eve. Piekarnia has been a staple fave of the scene for several years now, and although there's no cool status awards for having been there these days, it's still a reliable performer. Opera is a great club that is in the cellars of the National Opera of The Grand Theatre. Enjoy its oriental style and long red brick corridors and hidden rooms. Klub Balsam is cult favourite of note - sleepy caf by day, and arty party place by night, it's locale in the Mokatow fort lends it an extra cool factor. Klubo Kawiarnia must be one of the best nights in town. You're more likely to get in by knowing the barstaff than wearing your best Armani shirt - which is surely a good thing - and the funky music and atmosphere is hard to beat. Finally no Warsaw night out is complete without calling in on The Eve on the way home. The city's official afterparty many a legendary tale surrounds this den of hedonism… If you're into munching disco biscuits 'til dawn (and beyond) head on down.
If however mixing with a chic crowd is more important to you than getting sweaty on the dance floor, you should definitely call on Sketch, found at Foksal 19. A fantastic looking place full of fantastic looking faces, it has successfully emulated the formula of London's most elitist bars. And if you can't get in there then Szlafrok is another quality venue along the same lines.
Meanwhile those looking for a plain old piss up with a friendly crowd have plenty of options too. Chlodna 25 and Resort (Bielanska) are laid back bars that are great places for drinking, whilst Club 70 (ul. Walicow 9) have added a retro twist to proceedings if you fancy a bit of Bee Gees with your G & Ts, and the aptly named Zoo provides the same kind of mayhem but with some plush dcor and the odd serious track at the weekends.
Read all that and still feeling left out? Fear not, there is a little something for the rock, indie and other alternative kids in Warsaw. Klub Stodola (ul. Batorego 10), Klub Palladium (ul. Zlota 7/9), Chwila Da Klub (ul. Ogrodowa) all showcase regular live events and we list many of the goings-ons in our events calendar... So stay tuned if you want the latest news on ragga, heavy metal and electro-synth concerts.
Tygmont is another great place for a great night out while Mandala provides the reggae sounds.
Oh, and if you're wondering how we could possibly write a guide to Warsaw's nightlife without mentioning Le_Madame - it's because the legendary venue is now closed. Boo-hoo! Still, there's some street cred. points for name-dropping it on any night out and pretending that you were a regular…
Comments