Poland hosts Euro 2012!
Yes, against all the odds, Poland and Ukraine will be hosting the European Football Championships in 2012! Their joint bid was announced successful by UEFA chief Michel Platini in Cardiff on 18th April 2007, winning out over more favoured bids by Italy and Croatia/Hungary - and causing widespread jubilation throughout the two Eastern Europe countries.
The action will be spread over six cities in Poland: Warsaw, Gdansk, Poznan, Wroclaw, Chorzow and Krakow; and four cities in Ukraine: Kiev, Lviv, Dnipropetrovsk and Donetsk. Kiev's Olympic Stadium, which hosted the football at the 1980 Moscow Olympics, is the proposed venue for the final.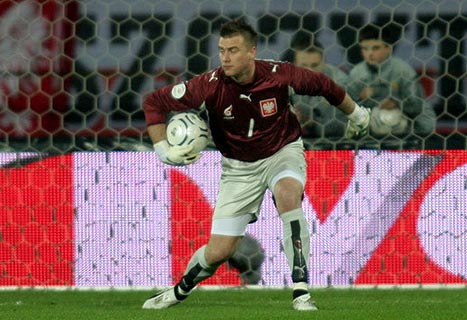 Winning Euro 2012 will result in a great deal of construction investments and enormous financial benefits to both Poland and the Ukraine, with some analysts putting the figures as high as 3 billion US Dollars worth of revenue. The tournament will also help shift the balance of power in football, and bring in resources and prestige to help boost the games of East European countries which have traditionally made little mark in international competitions. Euro 2012 will be the first major footballing event held by a country behind, or formerly behind, the Iron Curtain since Yugoslavia hosted the European Football Championships in 1976. It will be the first major sporting event of any kind hosted by an East European country since Moscow Olympics 1980.
Great news then for this part of the world, and a fantastic chance for Poland and Ukraine to show the world what they're capable of, both in terms of organising the event and competing in it! Of course, we'll keep you in the know with all the latest Euro 2012 news, fixtures and results - and, if you're coming to Warsaw to watch a match, we'll give you the low down on accommodation for booking hotels and apartments, give you travel information and details on getting to and from the airport, plus provide you with a very handy map for tracking down those stadiums. Oh, and we might have a few titbits on pubs, bars and nightlife you might want to read up on!
If however you are travelling to Euro 2012 for matches in other Polish or Ukrainian cities be sure to call on our friends in Gdansk, Poznan, Wroclaw, Krakow, Kiev and Lviv for the most complete guides to the action and the cities.
If you can't wait for 2012 however then check out all the latest news and views on Euro 2008 in Austria, courtesy of our colleagues in Vienna. See you at the game!
Euro 2012 Groups:
Group A: Germany, Turkey, Austria, Belgium, Kazakhstan, Azerbaijan
Group B: Russia, Slovakia, Republic of Ireland, FYR Macedonia, Armenia, Andorra
Group C: Italy, Serbia, Northern Ireland, Slovenia, Estonia, Faroe Islands
Group D: France, Romania, Bosnia-Herzegovina, Belarus, Albania, Luxembourg
Group E: Netherlands, Sweden, Finland, Hungary, Moldova, San Marino
Group F: Croatia, Greece, Israel, Latvia, Georgia, Malta
Group G: England, Switzerland, Bulgaria, Wales, Montenegro
Group H: Portugal, Denmark, Norway, Cyprus, Iceland
Group I: Spain, Czech Republic, Scotland, Lithuania, Liechtenstein
Comments