Getting Around Riga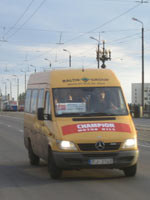 Above: Bus it... Below: ...or take the scenic route!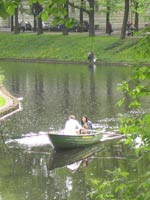 The lion's share of Riga's treasures are tucked conveniently away in the Old Town - as are most of the city's hotels and hostels. Seeing as the Old Town is pedestrianised and you can cross it in a twenty minute stroll, the need for transportation above and beyond your own two feet is limited. If however you're going slightly further afield you might want to read up on the following...

By Taxi

Taxis are cheap in Riga and, as long as you're not heading for Timbuktu, you needn't find yourself anxiously watching the meter, sweat running down your forehead. Do make sure the meter is running however - otherwise you're giving the driver a license to take the mickey (and more importantly your money with it). You can flag a cab off the street or find a steady supply in front of the Hotel de Rome, near the "Laima" clock, or in front of the Hotel Riga, near the Opera House.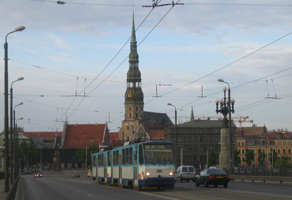 By Car
Latvian drivers aren't known for their altruistic nature and the Rigan roads have something of a dog-eat-dog feel to them. What's more you don't need a car to explore the most interesting places in the city, so hiring an automobile is best advised only if you have a specific day-trip in mind. You'll need a driving license and you must be at least 21 years of age, with 2 years experience, if you want to rent from a reputable company.

Public Transportation
Riga has an effective system of trams, buses, trolleybuses and minibuses that serve every quarter of the city. Tickets can be bought on board for the bargain basement price of 20 santimes. However, unless you've somehow mysteriously ended up in a strange Latvian girl's house the night before, you probably won't need to test Riga's public transport infrastructure. The exception might be a trip to Jurmala beach resort, and regular trains leave in that direction from the Main Train Station.
Comments