Cafe Lechaim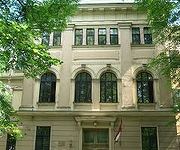 Phone

+371 67204023

Website

Address

Lacplesa st. 141
Local Life Riga is about to select candidates for Best Places awards, dedicated to rewarding and encouraging excellence in products, service and ideas. You are helping us to make the best choice.


Cafe Lechaim has 0 votes. Click here to see the results.


You can vote once a day for your favourite place.
Editor's review
If kosher food is your required diet, Cafe Lechaim provides a simple and cheap yet tasty selection of seafood, falafel, whipped egg with matzoth, schnitzels and more. Here you can get traditional Jewish meals for breakfast, lunch, and supper, as well as often meet members of Riga's small remaining Jewish community. Aside from an inconspicuous sign, the cafe is almost impossible to find, assuring you that its patrons are more regulars than tourists.
Editor
Editor & Riga Local
Reviews