Language Tips!
With a mere 1.5 million native speakers and only 3.2 total speakers you have to be a pretty dedicated linguist to want to get to grips with the tricky Latvian language. Still, if you're desperate to be a member of this elite club (ie. you got hitched to a Latvian wife and can't understand what she's shouting at you) then read on for a few pointers!
The Latvian language is one of two Baltic languages, the other being Lithuanian, that evolved from Indo-European. Latvian boasts a hearty 35 letters, 22 of which you will find in the English language and 13 of which look suspiciously familiar except for the curious dots and dashes floating above and below. Clever people refer to these 'extras' as diacritical marks, but no need to tax yourself - just know that they affect the pronunciation of the letter in question.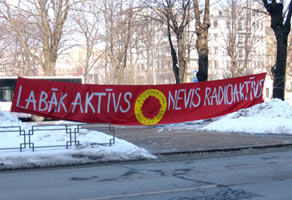 Here are a few handy phrases that are sure to see you through ninety nine percent of situations you might encounter in Riga... Remember the stress always falls on the first syllable! Es nesaprotu
I don't understand Vai Jus runajat angliski?
Do you speak English? Vienu alu, ludzu
One beer, please Es tevi milu
I love you Cik jums gadu?
How old are you? Kolosāls
Terrific Jūs esat brīnisķīgs dejotājs!
You're wonderful at dancing! Cik tas maksa
How much does it cost? Ludzu, rekinu
The bill please
When it comes to grammar there's more than enough to keep you busy for a decade or two. Nouns boast a healthy six declensions and six cases (just think of the permutations!) and whereas verbs only come in three simple and perfect tenses there's always the five moods to consider. Probably you can feel a thin film of perspiration on your forehead by now, but no need to panic just yet. Take a peak at our simple words and phrases and you'll have plenty to help you through a long weekend!
If you've got some good ideas on how to make our language section better, let us know!
Comments