Travelling to Lviv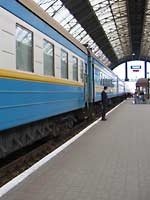 (above) Lviv's Grand Station was once the largest in the Habsburg Empire (below) Ukraine's colours reflect the classic national panorama, a yellow field of crops in the steppe and blue sky above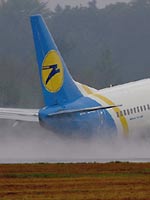 By air
Lviv has its own airport, albeit a modest one, so don't expect state of the art slickness. The most convenient places to fly from are London, Vienna or Warsaw. Poland's LOT airlines operates regular flights from London Heathrow with a brief stop in Warsaw. Austrian Airlines also offers flights and these are direct to Lviv, but less frequently. If you're coming from the UK you can also fly via Manchester, again with a short stop in Warsaw. Ukraine's own airline runs direct flights to Lviv from Frankfurt and Kiev. Lviv airport is just 6km outside the city so it won't take you long to get to the heart of the action. As of yet there are no budget airlines flying to Lviv.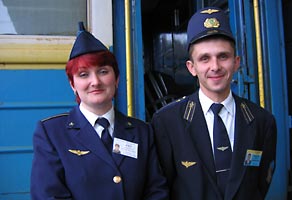 By train
Lviv's grand art nouveau station, a relic of the days when the city was the capital of Habsburg Galicia, is a spectacular sight in itself. It was recently restored and it's in fine condition. Of course, during the Habsburg days the train journey from Vienna was a good deal quicker - today it's about an 18 hour slog from the Austrian capital. If you're travelling from Poland it's about 11 hours from the southern city of Cracow. Naturally, if you're coming from Kiev, there are daily trains and these take roughly 8 hours to reach Lviv.

By bus...
It's possible to set out on your adventure to Lviv from a multitude of cities across Europe, including Amsterdam, Barcelona, Brussels, London, Manchester, Paris and Prague. Most of these options constitute a fairly long haul, but if you're intending to visit other destinations in Eastern Europe, you'll probably be approaching from Poland. If so, a couple of the more interesting points of departure would be Przemysl or Zamosc. Both of these are worth a look, and they're not far from the Ukrainian border. You can take a bus direct from Przemysl, or if you're on the Zamosc route, head off from Hrebenne.

By car...
It's an intrepid choice, but if you like an adventure there'll be plenty of thrills in store. If you're coming from the north-west, bear in mind that Polish roads don't have a wonderful reputation, and the Ukrainian ones are also unlikely to win prizes. Motorways themselves are rather few and far between - we don't mind that so much but pot-holes are very much the norm, not forgetting all kinds of slippery surprises when Old Man Winter descends. On the plus side Western Ukraine's straight, tree-lined prewar roads are picturesque, and its only with a car that you'll have complete freedom. For the bold!
Comments