Lviv Guide
Here are a few things to bear in mind during your stay in Lviv - * Don't forget to recheck visa requirements before you hit the border. Ukraine…
Read more »
(above) Lviv's Grand Station was once the largest in the Habsburg Empire (below) Ukraine's colours reflect the classic national panorama, a yellow…
Read more »
(above) Retro adventures Lviv style (below) Wake me up when you've made your move!By Foot Lviv is very much a city for walking, and it's only by…
Read more »
Don't expect to be able to use your credit card everywhere, although you're unlikely to have problems in higher end restaurants and hotels, likewise…
Read more »
One or two Ukrainian words sound reassuringly familiar - no prizes for guessing what Kafe, Restoran, Bar and Aeroport mean. Nevertheless, when those…
Read more »
Many Europeans are championing Ukraine's validity to join the EU. On the other hand, many Russians feel that these lands are rather more a part of…
Read more »
About the guide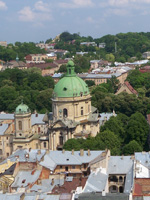 Above: The dome of the Dominican Church from the Town Hall tower Below: Monument to American pilots at the Orlat Cemetery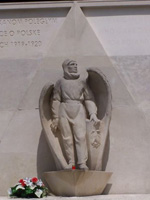 As you clamber to the top of the Town Hall tower on Lviv's ancient Market Square, a glorious relay of Errol Flynn music blares from the speakers, spurring you on in swashbuckling style. Once at the top, you can choose your own superlatives to describe the panorama beyond. With the hilly backdrop and the twirling domes rising against it, sobriquets such as the Florence of the East don't seem at all far-fetched.
In spite of the knocks of the twentieth century - and Lviv was very much at the heart of the whirlwind - the city has somehow managed to endure. There may be a few culture shocks here and there (crossing the street is an interesting adventure in itself) but this is an immensely rewarding city to visit, and one that has all the attractions - and pitfalls - of a city in transition.
A fifty year spell under the Soviet heel has left Lviv somewhat ragged, yet the richness of the city's heritage will come as a revelation. Churches have re-opened, museums have been renovated and fresh bars and cafes are just beginning to spring up.
Yet Lviv is also a city of ghosts. Lviv's losses may not be plain to see but they haunt the city on every corner. The Ukrainian lands suffered more civilian casualties than any other country during World War II, and the mixed communities of Lviv suffered as badly as any city in this part of Europe. The Armenian Cathedral may have been re-opened but the descendents of the pre-war congregation have gone. All of the Jewish synagogues were burnt by the Nazis, and the most famous one still lies in rubble. The majority of the surviving Polish community - who dominated cultural life in the city for centuries - were compelled to emigrate in 1945, owing to Stalin's machinations.
Polish and Ukrainian relations reached an all time low during the Second World War. There are still painful memories, but today, relations between the two countries are better than they ever have been. The pair have even launched a joint bid for Euro 2012: let's hope that this is an alliance that continues to blossom. And if Ukraine continues to open up (a place in the European Union is now on the cards) Lviv may yet regain some of the cosmopolitan panache that characterised the city for so many centuries.
City of Dreams
Comments