Getting around Lviv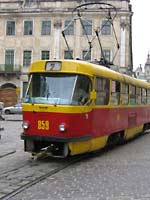 (above) Retro adventures Lviv style (below) Wake me up when you've made your move!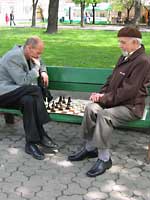 By Foot
Lviv is very much a city for walking, and it's only by wandering the streets that the ragged majesty of the place will begin to cast its spell.Nevertheless, this doesn't mean that the pedestrian has it all his own way. Far from it. The Old Town may be largely car free, but elsewhere, look out for those mad motorists. There may well be green lights denoting pedestrian crossings but drivers don't pay much attention to such niceties. Regardless of red or green, wait till a crowd of locals starts to cross. However, the good news is that deliverance comes at weekends when the whole of the Prospect Svobody Avenue is closed to traffic - God be praised!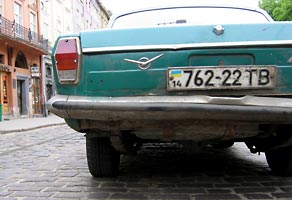 By Foot

By Tram
Jump on tram No.6 from the train station, and the journey to the centre of town takes about 8 minutes. There's no need to queue up to buy tickets as a laid back conductor wanders through the carriages selling the stubs, which cost 0.5 UAH apiece. Hold onto these until you finish your journey. Of course, given that street numbers and stops are written in cyrillic, there is plenty of room for comedy. It's true that most of the older generation don't speak English, but if you say 'Zentair' (centre) you should be understood.
By Taxi
You might say that Lviv is somewhat sparingly lit at night. Pale glimmers of light create a film noirish ambiance that may not be to everyones tastes, especially if you're carrying luggage. If you have to cross large areas of the city in the dead of night, a taxi may well put your mind at ease. You won't get away with paying less than 10 UAH from the train station to the centre of town, but if the price veers beyond the 25 mark, you're being taken for a ride in both senses - a bit of haggling may be in order. At the moment, only one of the 20 or so registered companies uses a standard meter. You can call them (Radar Taxis) on 0-00(298-1995).
By Bus
The Main Bus Station is located at 109 Stryiska Street, and if you're intending to make forays into the countryside to destinations like Zhovka, Pidhirtsy or Olesko the bus system will be invaluable. The telephone number of the Central Station is 63-2531.Besides the state run buses, a plethora of private minibuses (marshrutky) has now joined the throng. They're a lively feature of city life, with entrepreneurial drivers zipping in and out of the traffic to snatch customers before rivals attempt to do likewise. Standard fares within the city are 1 UAH, but don't expect a seat.
Comments
when getting a taxi one way for a long distance, make sure you are clear with the driver that you will only pay for the outward journey! Sometimes they claim that it is 'normal' in Ukraine to pay for their return journey! It is not! You should pay approx 2 - 3 Hryvnia per kilometre for your journey, whatever the distance, one-way or not. Don't be bullied!
Reply