Sport in Krakow
When it comes to sport, you probably fall into one of three camps - active participant, armchair enthusiast, or couldn't care less. If you're in the latter, you're probably better off reading our features about art, museums or history.
For those of you still with us, here's what you need to know about getting sweaty in the city or watching the professionals strut their stuff, come summer or winter...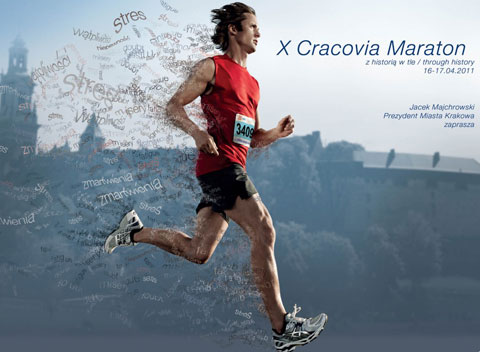 Football
Krakow is generally a big footballing city, and passions run very high. The two big teams, Wisla and Cracovia , attract thousands of spectators to their games, though both clubs have their share of knuckle-scrapers who are more interested in a scrap than the match.
Fancy taking part yourself? Well, during the warmer months in Krakow there are plenty of places to have a kickaround. Among the best jumpers for goalposts spots are the Blonia common close to the two main football grounds, and the summer beach opposite the Church on the Rock by the river.
Cycling
Krakow's Planty, pedestrian friendly centre and river banks all lend themselves to cycling, so unless there's actually several centimetres of snow on the ground you can expect to see Cracovians shuttling from place to place on two wheels. Hire a bike from one of the many outlets around the city, or from of of the self-service stands. There are established cycle routes around the city and further afield, offering easy rides to beauty spots such as Tyniec . Krakow is also traditionally the finishing point for the Tour de Pologne race. It's yet to be won by a Pole, but this can only be a matter of time.
Rollerblading
It doesn't matter how young or old you are, Krakow is a city that positively welcomes rollerblading and skating. The same cannot be said of the street surfaces, many of which bear scars that are magnified many times under the tiny wheels of your skates - but nevertheless it's a popular activity and a great way to keep fit. Just remember to wear a helmet.
Running
The cheapest and quickest way to get into sport is to pull on a pair of trainers and start jogging. There's always someone to be seen doing laps of the Blonia common or the Planty gardens, even in the most inhospitable weather. If you take your sport more seriously, there is the spectacle of the Cracovia Marathon, in spring each year. This is 24 miles of pain and dehydration, though anyone who has taken part will undoubtedly tell you that is was all worth it. Like many marathons this event is open to the public, but you have to book your place early.
Cross country enthusiasts are also well catered for, thanks to the Bieg Trzech Kopcow (Three Mounds Run). Taking place in early October, when all bets about the weather are off, this is definitely not one for the faint of heart or spindly of leg. It is a 13km course over rough terrain, from Kopiec Krakusa in Podgorze to Kopiec Pilsuskiego via Kopiec Kościuszko. Oh, and you have to complete the whole thing in two and a half hours, or it doesn't count...
Less demanding is Biegam bo Lubie, where running is for fun, and any age and ability is welcome to take part. In the meantime, get in some serious track training by using the facilities at Plac na Groblach.
Volleyball
This sport is massive in Poland, and the professionals here are really rather good at it. You will see signs for siatkówka all over the city, wherever there's a space to play or a gym with a spare hall. So if you feel that your Polish is up to it, just drop in and ask how to take part. Watching is easier still, as major international matches are broadcast on TV and you will find them just as quickly as you will find football matches in the bars.
Winter Sports
Undoubtedly, it is the nearby town of Zakopane that can claim the title of winters sports capital of Poland. While it fills up with ramblers and climbers in summer, from late autumn it becomes the domain of the sub-zero adrenaline junkie. There's always an opportunity for beginners to learn ski-ing, snowboarding and more, or you could hire a snowmobile or set out cross country ski-ing and explore the Tatra mountains. It was in Zakopane that Adam Malysz, Polish ski-jumping hero (and we mean HERO - there was a campaign to give him the highest honour in the land), retired, and every year you can see tournament and exhibition jumps.
There are many other winter sports resorts in easy reach of Krakow too, for those who are looking for somewhere a little quieter. Try Kasina Wielka, sleepy Paczoltowice, Spytkowice, Chelm, Zarabia, Maciejowa, , Bialka Tatrzanska, Kasprowy Wierch, Szczyrk, or Jaworzyna Krynicka. Just remember to wrap up warm.
Closer to home, Krakow has a massive ice skating rink close to Hala Targowa, between the main square in the old town and Plac Nowy, the heart of Kazimierz . The rink has skates for hire so you don't need to lug your own kit down there, and you can buy tickets as singles or in karnets.
Gyms and Fitness
If you are seriously considering taking part in the Cracovia Marathon or any of the other sporting events in the city, it's a good idea to do some training first. But even if you are simply looking to improve your general fitness, Krakow has a great number of gyms and fitness centres. They range from outlets where you can walk in, book time and use the pool or the equipment, to full on palaces of personal fitness and well-being, such as All For Body, where you can if you so choose hire the services of personal trainers, diet experts and more. New gyms and fitness clubs are opening all the time in the city, so keep an eye on our services page for up to date information.
Make a Splash
During the spring and summer months, the resort of Kryspinow, just a short distance from Krakow is extremely popular. Here it is possible to try all manner of water-related sports from the classic - water ski-ing - to the bizarre, such as zorbing. The resort has facilities for all ages, and is a favourite spot for Cracovians seeking to escape the city for a day and just relax.
Comments